Cyclone Tauktae has wreaked havoc in many parts of the country including Gujarat, and many were concerned about the situation of wildlife in the state.
In order to alleviate these fears, Gujarat's Additional Chief Secretary of Forest & Environment Department, Dr. Rajiv Kumar Gupta, tweeted a now-deleted video that showed pride of lions crossing a stream surrounded by tall Savannah grass. He wrote that the field staff is constantly monitoring the lion movement in Gir during the cyclone. The top IAS officer also tagged the Gujarat Forest Department, The Indian Express reports.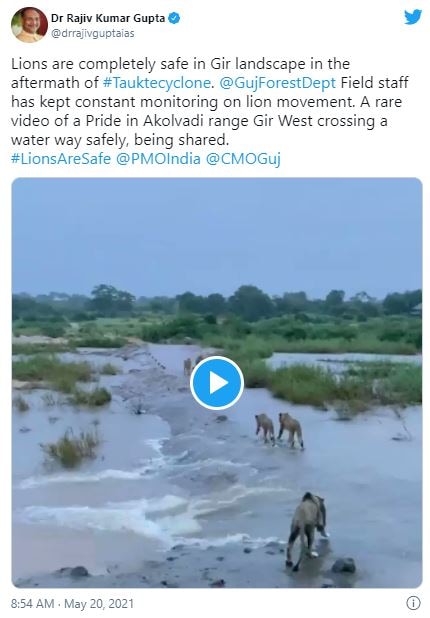 It was also retweeted by Prakash Javadekar of the Gujarat Forest Department and Union Minister for Environment and Forest.
Happy to know that #LionsAreSafe in Gir landscape post #Tauktecyclone . Kudos to the @GujForestDept staff for constant monitoring. @moefcc @PIB_India @PIBAhmedabad @DDNewsGujarati @DDNewslive https://t.co/eOm8mkRkSI

— Prakash Javadekar (@PrakashJavdekar) May 20, 2021
While many people fell for the video and lauded the officials, many sharp-eyed citizens questioned the topography of the region as well as the fact that they didn't seem like Asiatic lions:
Is it Gir? Such a lush green at this time? In May? In just one rain fall..wow👌👍

— Kaushal Magiawala (@kmagiawala) May 20, 2021
Its not Gir video

— Saurabh Patel #WearAMask (@saurabhpatelseo) May 21, 2021
This is not from GIR and Those are not an Asiatic Lions.

— Vijay Patel (@vjaypat) May 20, 2021
that's from south africa not gir🤦🏻‍♂️ https://t.co/Ggl8JgUOKK

— Jay Kholiya. (@JayyKholiya) May 21, 2021
with profound respect sir, ths is of Malamala reserve .. @dmittal_ifs @DCF_GirWest has cheated entire wildlife community by sayn it is #Gir.. @CentralIfs

— Lions of Gir (@LionsGir) May 20, 2021
These lions are of MalaMala Game Reserve and the pride is know as Nkuhuma Pride. This is not Gir.

— sks6676 (@sks_gir) May 20, 2021
WA is so powerful that everyone thought it's a correct message…

— dharmesh (@dharamdeep) May 20, 2021
@PMOIndia @CMOGuj Sirji this is video of Malamala game reserve footage from south africa. Kindly check twice before sharing information and putting fake video sir. There is link below you can check it. https://t.co/M2aH83CHaG

— Milan Bharad (@milan_bharad) May 20, 2021
Turns out that the footage shared was not from Gujarat, but South Africa instead. The clip was originally shared in February 2021 by the Mala Mala Game Reserve, one of the oldest and biggest private game reserves in South Africa. Check out their post:
Dr. Gupta then deleted the video and issued a clarification:
It is regretted that a wrong video was posted along with statement of Lion safety in Gir landscape.PCCF(Wild Life)Sh Shyamal Tikadar has apologised for his lapse & indiscretion.Inconvenience &confusion caused is sincerely regretted with an assurance for double caution in future. pic.twitter.com/ibs6n31LCU

— Dr Rajiv Kumar Gupta (@drrajivguptaias) May 21, 2021
Rajya Sabha lawmaker Parimal Nathwani, who had also shared the clip, issued a clarification on his behalf:
Regret any confusion and inconvenience caused by quoting the wrong location & time of the video of the lion pride. It was put as forwarded and is now deleted.

— Parimal Nathwani (@mpparimal) May 21, 2021
DT Vasavada, who is the Chief Conservator of Forests, Junagadh Wildlife Circle, put out a video stating that all the lions of Gir-Brihadgir are safe, and that none of them have gone missing due to the storm that hit Gujarat.
જુનાગઢ વન્યપ્રાણી વર્તુળના મુખ્ય વન સંરક્ષક ડી.ટી.વસાવડાએ જણાવ્યું કે ગુજરાત પર ત્રાટકેલાં વિનાશક તૌકતે વાવાઝોડાને કારણે કોઈ પણ સિંહો ગુમ થયા નથી,ગીર-બૃહદગીરના તમામ સિંહો સલામત છે.વન વિભાગ દ્વારા સિંહોની સલામતી માટે સતત મોનીટરીંગ કરી સુરક્ષા માટે તમામ પગલાં લેવાઈ રહ્યાં છે pic.twitter.com/1mF7KMMxVp

— GujaratForestDept (@GujForestDept) May 19, 2021
The Gujarat Forest Department issued a letter stating the claim alongside two photos that showed lions roaming in their habitat.
#PressRelease #GirLions pic.twitter.com/FeenSisiRA

— GujaratForestDept (@GujForestDept) May 19, 2021
What do you think of this blunder? Tell us.