It's been 25 years since FRIENDS first aired on television and gave us a peep into their lives. Strangely, we all relate to it even today! Although the American sitcom premiered on Sept. 22, 1994, it remains a popular series that cheers us up with Chandler's witty humour, Joey's innocence, Phoebe's unusual ways of dealing with life, Monica's obsession to keep everything 'on point' and Rachel and Ross's cute love story.
And to commemorate the silly-moments and one-liners of the show that became a part of the characters, Google came up with seven Easter eggs for us to find on the show's 25th anniversary. To find all of them, all you have to do is type the name of the character on the Google search bar. On doing so, an icon that represents the character will appear on the information panel. All you have to do is click on it and wait for the magic to happen. Don't forget to switch on the sound.
1.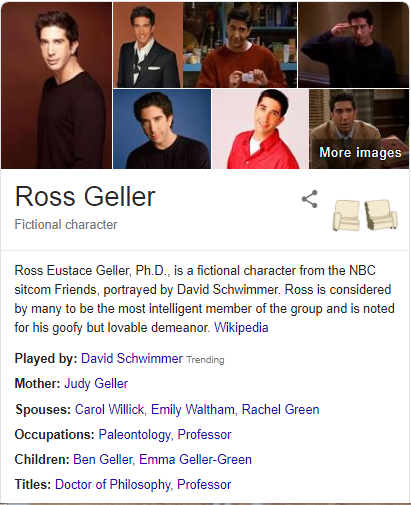 Say if you are looking for Ross Geller, the iconic couch appears next to his name. Just click on it and you can see the entire screen 'pivoting' left and right and the couch eventually breaking into half because "I don't think it's gonna pivot anymore."
2.
Similarly, you can search for Rachel Green and the list of all 'The Rachel' hairstyles appear on the screen.
3.
Phoebe Buffay can be seen singing the classic 'Smelly cat' while a cat casually walks across the screen.
4.
Chandler Bing's 'barcalounger' pops open and his duck and chick pay a special visit.
5.
For Joey Tribbiani, it has to be a pizza. Just click on it and hear Joey screaming, "Joey never……" Ya, you are right.
6.
Google honoured Monica's obsession with cleaning with a soap bucket that reveals a sponge making the page squeaky clean.
7.
But these are only the six of the seven Easter eggs you say? Well, the seventh one is even more interesting. Google came with a 'Friends Glossary' explaining all the catchphrases and quirky one-liners of the show. All you have to do is type 'Friends Glossary' for the entire list of words.
Well, even Google couldn't forget the epic sitcom that has made an important place in every fan's life. Thank you, Google for this surprise!