A shocking incident took place in Goa on the night of July 24 when 2 minor girls, who were accompanied by 2 boys, were allegedly gang-raped on the popular Benaulim beach in South Goa. 4 men who posed as policemen, allegedly beat up the 2 boys and raped the girls.
As per a report in TOI, the 4 accused men are Asif Hateli (21), Rajesh Mane (33), Gajanand Chinchankar (31), and Nitin Yabbal (19), all of whom were arrested Sunday night. One of them is reportedly a government employee (a driver with the agricultural department).
On Wednesday, CM Pramod Sawant, who was addressing the state assembly reportedly said, "We directly blame police, but I want to point out that 10 children went for a party on the beach. Out of the 10, six returned home. The remaining four, including two boys and two girls, stayed on the beach the whole night. When a 14-year old girl spends the night on the beach, the parents too have to introspect, they too should be taking care."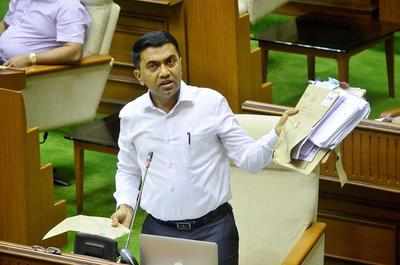 He further said that teens, particularly minors, "should not be spending nights on beaches". He added, "It is also our responsibility. Just because children are not listening (to their parents), we cannot leave all the responsibility to the government and police."
Former Deputy Chief Minister Vijai Sardesai slammed his remark stating what "Goa's brand image" should really be, News18 reports. He stated, "You cannot say why they were on the beach. This is not the answer from the home minister of the state. The home minister should say that we (Goa) are so safe that you can spend the whole night on the beach."
People online too criticized the comment Sawant made:
"When 14 year olds stay on the beach the whole night, the parents need to introspect"

Goa CM on gang rape on Goa Beach. This is sick&brazen abdication of responsibility to keep Goa safe. Shameless. pic.twitter.com/ShnygjcWQc

— Priyanka Chaturvedi🇮🇳 (@priyankac19) July 29, 2021
Pramod Sawant, the CM of Goa, needs to be educated that sexual assault is never the fault of the survivor. Make your state so safe women can walk there any time of the night instead of further traumatizing them by telling women it is their fault.

— positivity hater account (@hoopoe_is_here) July 29, 2021
If you can't provide a safe place for the teens, Girls or even Women – then why to hold such position- let someone else take charge who can work towards ensuring safe places for Women/Girls

Why parents need to introspect- why not work towards ensuring that #Goa beaches are safe https://t.co/1JNY1P4B75

— Ruchi Angrish (She/Her) (@RuchiAngrish) July 29, 2021
What do you think of the CM's statements? Tell us in the comments section.
Cover Image Source- left