Twitter is always full of surprises. We never know if the trending thread of the day will spark an intense debate on the correct way to swallow bitter medicine, get our creative juices flowing by describing cities as people or give birth to a viral challenge involving our beloved pets (i.e. #InvisibleChallenge). But what we do know is that it will surely tickle our funny bone and put a wide smile on our faces. Today's viral thread is no exception either.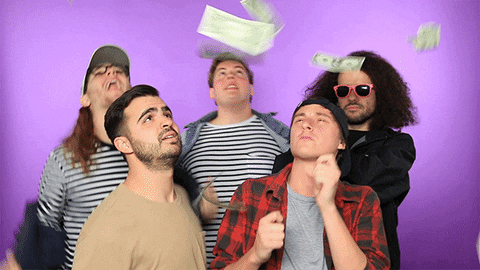 We don't know how it started but someone wrote about their first salary – how much it was, which year they earned it in and what they had to do to earn it. Soon enough, there was a crazy influx of responses. Netizens joined in by sharing their own stories and the thread became both hilarious and nostalgic at the same time.
₹250/- for a kilo of my homemade brownie in 2011 🙂 #StartedFromTheBottomNowWeHere #FirstSalary https://t.co/3IAoKBPd7E

— Ashrrita (@caramelwings) July 11, 2019
#FirstSalary
₹ 5 in childhood ludo game champion ship 🙇

— shubhendu shubham (@myselfshubhendu) July 13, 2019
Junior copy editor, INR 1800 as a freelancer, year 2007. Felt being richest girl on planet.

— Aditi Maheshwari (@kitabwali) July 11, 2019
400₹ for giving Accountancy tuitions in 2004. #FirstSalary in 1st year of graduation.

— Mayank (@MayankRK) July 11, 2019
Rs 1000/- Stipend at Taj hotel Indore 1996 https://t.co/uwIj44nR2w

— Mantra (@mantramugdh) July 11, 2019
₹ 2000 a month, writing for Mid Day Delhi #FirstSalary https://t.co/WVl0gvaiFW

— Kabeer Sharma (@ka_beer) July 11, 2019
Mine is 180 Rs.( for 12 days of water service to 10th standard students in board exams )
Year 2006
used to go in every class and ask every student " pani…pani…pani chahiye" 😅😁
I was in 8 th standard तो शर्म वैसे भी नही थी…😶#FirstSalary

— VINAY KARALE 🇮🇳 (@vinaykarale35) July 13, 2019
Like everything else, this too got the meme treatment from desi Twitter. With university students ruing that they receive no salary to people thanking Lenskart for credits in their account, people were at their funniest best.
#FirstSalary
*Me, calculating my First Salary after deducting HRA, medical and other allowances* pic.twitter.com/LxQQOwhcHp

— Jitesh Rochlani (@jiteshrochlani) July 13, 2019
2000 credited in your lenskart acc is my #FirstSalary 😂😂

— Aniket Yadav (@AniketY31) July 13, 2019
my #FirstSalary was when i did my first transaction on google pay & got 50 rupee cash back@GooglePay @GooglePayIndia

— Shaheen Butt (@ShaheenButt18) July 13, 2019
* #FirstSalary trending *

me, a full time uni student : pic.twitter.com/3OLpXDfiRg

— 🌸 pastel me 🌸 (@shrutified) July 13, 2019
What Mama mosi chacha bua gave when I was born😎…I think thats my #FirstSalary

— shalini sharma (@Sharmashalini05) July 13, 2019
People after getting their #FirstSalary pic.twitter.com/1tC6VQKE3b

— Sahar (@SaharAfreen) July 13, 2019
Me: Still, waiting to earn my First Salary. pic.twitter.com/6XxbfqY3hc

— Naresh Shan (@ShanNaresh) July 13, 2019
When someone ask me about my salary.😀😀#FirstSalary pic.twitter.com/h4adhdzJjF

— Ankit Mishra (@aankitmishra_) July 13, 2019
Apart from the entertaining humour, this thread certainly makes us feel a tad bit better about the low incomes from our first jobs/internships by showing us we aren't alone, don't you agree?