Disclaimer: This post contains graphic imagery.
---
All of us have passed the tattoo obsession phase at some point in our lives where we see a beautiful tattoo and it's love at first sight. We want to get it on our body as fast as possible, but believe it or not, that can get very fatal very fast.
This is exactly what happened to 24-year-old, Catt Gallinger, a Canadian body modification enthusiast, from Ottawa, when she got a sclera tattoo. In case you are unaware of this, a sclera tattoo is one which you get done on the white part of your eye.
Sounds risky, right? Well, you are not wrong because if done in an irresponsible manner or with wrong equipment, you can go partially or completely blind.
Gallinger hadn't thought that after undergoing numerous procedures like having a forked tongue, piercings and tattoos to modify her body, this would go wrong so drastically. After the tattoo was done on 5 September, Gallinger had purple dye streaming from her eye.
She took to Facebook to warn people of her ordeal and how everyone should be careful of procedures they choose to undergo. She wrote,
For everyone inquiring about my eye.
so this was done by Eric Brown three weeks ago. As it stands I will have to see a specialist and am at risk of being blind if it doesn't get corrected.
This was caused by undiluted ink, over injection, not enough/smaller injections sights. There are multiple people who can attest that my aftercare was good and any other part of what I am saying.
I am NOT sharing this with you to cause trouble, I am sharing this to warn you to research who you get your procedures by as well as how the procedure should be properly done.
I have been to the hospital three times, I had no furry pets to cause any dander, and I wash my hands every time I do anything with my eye, both before and afterwards.
I was on antibiotic drops for the first week and a half and have been on steroid drops for four days now, with little success at bringing down the internal swelling. The external swelling lasted for almost a week.
The photos show the day of (purple drop), the day after(swollen shut) and now three weeks later. I will add more throughout the process
Just please be cautious who you get your mods from and do your research. I don't want this to happen to anyone else.
As reported by Fox 8, Gallinger said that while she knows a lot of people who have not had any issues with their scleral tattoos, the artist who did hers was unqualified and persuaded her until she "gave in".
The eye in which she got her tattoo was swollen shut the very next day and Catt knew in her gut that something was wrong. However, the tattoo artist kept insisting that it was normal.
She said that her vision is compromised now and she sees double. She has made numerous trips to the hospital and doctors have told her that her tattoo has caused hemorrhage and sclera tearing and the eye might have to be removed if it causes nerve damage in the retina.
Gallinger is condering legal action on the artist as she believes that the artist used undiluted ink and the wrong needle which caused the tattoo ink to go too deep into the eye.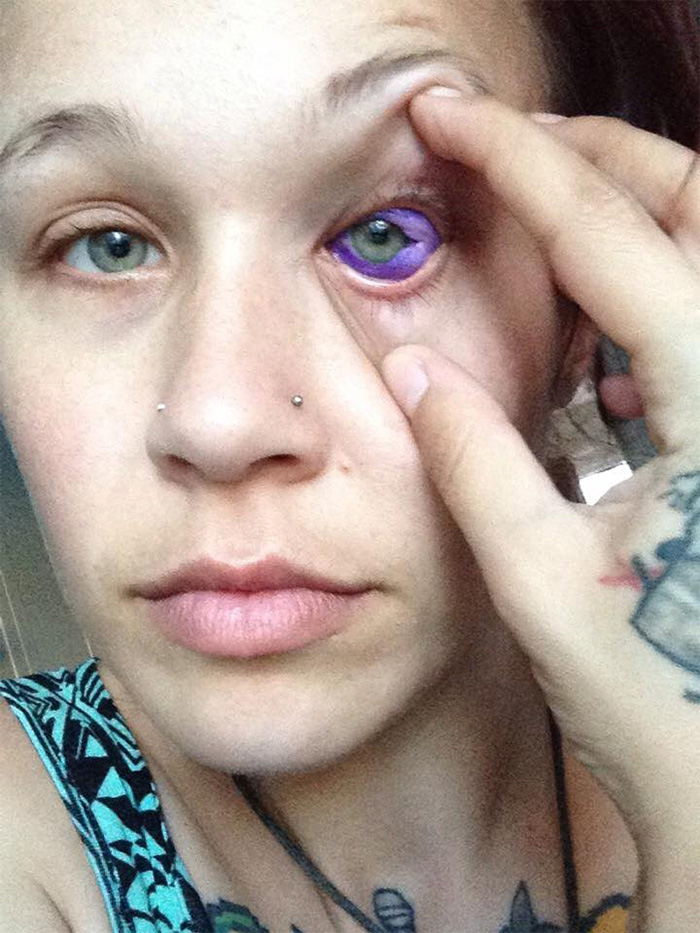 We hope that others learn from her mistakes and do proper research before modifying their body in any sort of way because, as it is evident from her experience, a small mistake might harm you in the long run. We wish Catt a speedy recovery.