Being single sucks.
No, I don't say that thinking that with being single, one is lonely, in need of affection, and "lagging behind" while all the suitable dating prospects are quickly being grabbed. Singlehood sucks not because of a single person's own feelings, but because of the various societal pressures they are put through.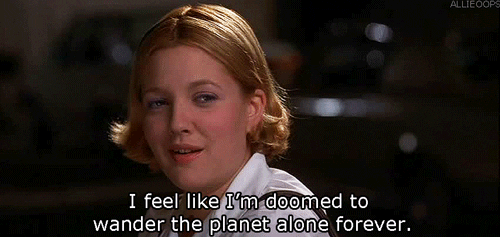 For the longest time, the term 'single' has had attached to itself a negative connotation. Imagine other such 'single' terms like 'divorced', or 'widowed'. There is a constant sense of stigma, we all know it. Like in India, it is a given that by the age of 30 a woman must be married and have her first child within 2-3 years of the marriage. If not, people start questioning the worth of the woman.
I also can't even begin to think the amount of pressure guys must go through. They are expected to "settle down" and have a "secure career" by the time they are 30. But what if they are still trying to figure things out? What if they enjoy being single but are constantly picked on by their other friends? All this and more has led to people suffering from a decreasing sense of self-esteem and self-worth and they start believing that they will be "fulfilled" if only they are in a relationship.
However, thank god for Emma Watson whom we have grown up watching as Hermione Granger! In her recent interview with British Vogue, Emma manages to breakdown and downright abolish the negativity around being single. Instead, she termed it as being "self-partnered". Now that's got a positive ring to it, doesn't it?
She said:
"If you have not built a home, if you do not have a husband, if you do not have a baby, and you are turning 30, and you're not in some incredibly secure, stable place in your career, or you're still figuring things out…there's just this incredible amount of anxiety. It took me a long time, but I'm very happy [being single]. I call it being self-partnered."
And now, people on the internet have become a fan! They have taken to Twitter to express how grateful they are to Watson for coining a term which to some extent removes the stigma attached to singlehood, and emphasizes more on self-sufficiency.
I like this #selfpartnered concept.

It is simpler and more comfortable being on your own, doing your own thing. Happiness is more easily attainable. It all comes back to self-love and being content on your own with yourself, an important place to be at mentally and emotionally.

— Hot Bot (@LuxeGiorgio) November 5, 2019
I'm identifying myself as "self partnered" this Holiday season…tired of my family asking me about my relationship status. pic.twitter.com/rgS2qXWmGy

— PatrioticLawStudent (a.k.a. Thomas) (@law_patriotic) November 5, 2019
The takeaway from this piece isn't the term "self-partnered" but the fact that you can be a BAFTA recipient, UN goodwill ambassador, and beloved icon of a generation of women and people will still ask if you feel like a failure because you're 30 and not married with kids. https://t.co/pxSPUhWswH

— andi zeisler (@andizeisler) November 5, 2019
I'm taking myself out on a date tomorrow since I am amazing company. #SelfPartnered

— beyazmin. (@afrolatinax) November 6, 2019
Emma Watson coins phrase 'self-partnered' as she describes being 'very happy' single

I think self-partnered is an awesome phrase for those who are single. It shows deep sense of self-sufficiency.

Just be a good partner to urself first. That way U won't settle for anything less

— Kak Long (@SpongeBobCatz) November 5, 2019
Emma Watson's #selfpartnered quote is actually absolutely amazing, because it puts the emphasis on having a relationship with yourself rather than having the absence of a relationship with somebody else.

That's super empowering & healthy.

— Sophie. (@_sophiedarling) November 5, 2019
Emma Watson: Makes a very valid point about the absurd pressures placed on women with regards to expectations over family/partners and that being single is fine.

The internet: #SelfPartnered!! LOL!!1!

— Jim Ross (@JimGR) November 5, 2019
Can't believe how much this has blown up. @EmmaWatson describing herself as 'Self-partnered' isn't something to poke fun at. It conceptualises ur state of being. Society has given 'single' so many connotations, we think we have to feel a certain way…#EmmaWatson #SelfPartnered

— Kali (@Kalixplore) November 5, 2019
She wouldn't have to coin a new term if there weren't such a stigma about the term "single". That's her point, that people need to stop thinking you can't be happy and fulfilled if you're not in a relationship. #EmmaWatson could definitely be in one if she wanted. #SelfPartnered https://t.co/FB6YoQJ98u

— Stephen Monteith, World's Greatest Secret Author (@Stephens_Site) November 6, 2019
Single is the new couple! Thank you @EmmaWatson for empowering single women! #SelfPartnered #EmmaWatson https://t.co/t52uTICOdV

— Isolde (@Isoldefiction) November 5, 2019
I like the phrase "self-partnered" because I feel like it celebrates just wanting to love yourself and focus on yourself, sometimes I feel like saying that you're single implies that you are actively looking for a partner, which right now I ain't. 💗#selfpartnered #emmawatson

— Lucy Carr (@LucyCarrWright) November 5, 2019
I am a happy, "self-partnered" almost 31-year-old. Thanks, @EmmaWatson for helping all of us formerly known singles to find more truthful and empowering verbiage. #SelfPartnered #EmmaWatson https://t.co/0mMCZhs99x

— celinamunoz (@chelischula12) November 5, 2019
Can we not appriciate the fact that #EmmaWatson is calling out old age Patriarchal Pressure tactics from Conservative standards of perfection?

Which are inherently Sexist, Racist and based upon a detachment of self Love to serve Capitalism? No?

Okay ahbshxnsh😂 #SelfPartnered pic.twitter.com/yswBDwN724

— Rajiv (@BlackedHatGuy) November 5, 2019
You can watch her entire interview with Vogue here:
It is sad how society wants us to conform to certain roles and standards, and fit ourselves into small defined boxes that can't even contain our entire personalities. Singlehood should be less about hunting for a partner to settle down and more about enjoying and celebrating your own self however you want to!