Elephants have often captured media attention, by well, just being their adorable selves. For instance, how two elephants passed out after getting drunk on corn whiskey, making it a 'trunken party'.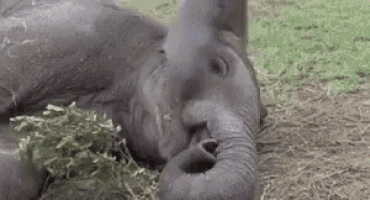 Now, Praveen Kaswan, an Indian Forest Service officer has shared visuals of some Asian elephants snuggled up together fast asleep. He went on to explain their eating and resting habits in a long thread, and even likened them to the routines of college kids. Check it out:
— partik nayak (@Xyz31769991) June 8, 2021
Elephants have only two jobs; eat & sleep. They sleep heavily. They snore a lot.

Most of the time one among herd remains awake as a guard, mostly bull.

Now in India maize & monsoon is here. Elephants will stay on forest boundaries. In day they will sleep & in night will raid.

— Parveen Kaswan, IFS (@ParveenKaswan) June 8, 2021
These elephants are like those college kids. They sleep as sun rises. Have lunch in evening. And then keep roaming whole night here & there. (Diary – 12/1/2020)https://t.co/DPyvi2M7H9

— Parveen Kaswan, IFS (@ParveenKaswan) June 8, 2021
They don't have an efficient digestive system. So they need to spend all time in eating.

They look heavy but they walk a lot. That is why called as long ranging animals. A herd can walk 20 km a day. Presence of kids reduces the speed though.

— Parveen Kaswan, IFS (@ParveenKaswan) June 9, 2021
And why they are long ranging. I want to think it shows how intelligent they are. Imagine a herd of 50-60 residing in same area. They will finish all.

They want to utilise resources sustainably. And in that journey they keep spreading seeds.

As I say forest walk with elephants.

— Parveen Kaswan, IFS (@ParveenKaswan) June 9, 2021
People online reacted to the interesting thread:
1. People added to the knowledge by sharing more facts.
Yes Sir….and some interesting #fact about #elephant sleep is :-
•Wild Elephants get an average of TWO HOURS of sleep each night.
•Elephants in ZOOS sleep an average OF FOUR to SIX hours a day.
•Wild elephants can go up to 46 hours without sleep. pic.twitter.com/GpTM2fWTju

— 𝐃𝐧𝐲𝐚𝐧𝐞𝐬𝐡𝐰𝐚𝐫 𝐊𝐮𝐦𝐛𝐡𝐚𝐫 🇮🇳 (@mauli_kumbhar_) June 9, 2021
Observations
1) They are keeping their snout curled inside while sleeping.
2) Each one of them is ensuring that they touch at least one member of the herd while sleeping.

— subhash (@cfasubhash) June 9, 2021
2. Didn't know I would have so much in common with an elephant.
Never knew elephants could be my spirit animal.
Eat sleep repeat.

— Kinjal (@Kinjalpp96) June 8, 2021
😂😂😂genetic!! Like we workout n still remain golu molu😀

— shipra bhargava (@bhargavashipra) June 8, 2021
Just like how my kids like their legs aggressively pushing on me all night and give enough space for me to sleep on side with no room to turn. Elephant family here has so much space still just like my home, 5 bedroom house but all piled up on me 🙄

— Yuvan Rudra (@landofdeed) June 8, 2021
The family that stomps and sleeps together, stays together!