India is a diverse nation with several cultures, that are intertwined yet independent. Each state has its own way of life, and there is no better way of learning it than by knowing its delicacies. We celebrate our festivals or even smaller joys of life with panache, making sure that each and every thing is done perfectly- especially the food. Celebrating with sweetmeats is something we all hold close to our hearts, and each state has something entirely different and wonderful to offer.
Here is the list of 29 desserts, one from each state of India, that are absolutely delicious and drool-worthy.
1. Andhra Pradesh
Pootharekulu Kunda
A delicious rice treat, this sweet is made so paper thin that it melts in your mouth.
2. Arunachal Pradesh
Khapse
Made popularly during the Tibetan New Year, or Losar, Khapse is a variety of sweet biscuits made from flour, butter, eggs and sugar. Its deep fried and served in different shapes, sizes and twists.
3. Assam
Assorted Pithas
Pithas are a special type of rice preparation -they can be baked, deep fried, roasted or steamed.
4. Bihar
Thekua
Thekua or Khajuria is a snack made from wheat flour, jaggery (or sugar) mixed together, moulded and deep fried. It is an absolute treat to the taste buds.
5. Chhattisgarh
Dehrori
Made primarily from rice and molten sugar syrup, Dehrori is known as one of the most famous sweet-dishes of the state.
6. Goa
Bebinca
A traditional Goan dessert, Bebinca is a layered cake that is made of eggs, flour, coconut milk, and nutmeg. Added Bonus: It can be enjoyed with a serving of ice-cream too!
7. Gujarat
Basundi
Gujarati basundi is a delicious dessert made of thickened milk. Almonds and pistachios add crunch to this creamy sweet. With a yummy, creamy texture, this is sure to make a wonderful end to a fantastic dinner.

8. Haryana
Aloo ka halwa
Known to be made during festivals like Ekadashi, Aloo Ka Halwa (potato pudding) is made of boiled and mashed potatoes and pure ghee which adds to its wonderful flavour and aroma.
9. Himachal Pradesh
Dabbroo
This sweet preparation is popular in the Kangra valley of Himachal Pradesh. They happen to be very similar to pancakes, and are made using wheat, ghee, and milk.
10. Jammu and Kashmir
Shufta
A wonderfully good looking food item, Shufta is made using dry fruits, sugar, and saffron, with an added touch of cinnamon and pepper. A royal treat for the taste buds.
11. Jharkhand
Malpua
A popular dish in Jharkhand, Malpuas are made  by mixing flour, milk, sugar and mashed bananas and is deep fried in such a way that the edges go all crispy while the center remains soft.
12. Karnataka
Mysore Pak
This heavenly sweet dish is made using gram flour, ghee, and sugar.
13.  Kerala
Vettu cake (deep fried sweet cakes)
These yummy looking cakes are made of maida, sugar, cardamom powder and eggs.
14. Madhya Pradesh
Mawa Bati
MP is known for its street food and impeccable desserts, but Mawa Bati is something everyone should taste. Made of Mava (obviously), Til (sesame), cardamom powder and ghee, this dish here and for a good reason. Delicious.
15. Maharashtra
Puran Poli
Ah, the good life. Puran Polis are made traditionally in this state on auspicious occasions, by boiling chickpeas and adding jaggery to the boiled lentils. The outer cover, or poli, is made of flour, milk, and ghee. The result is absolutely delicious.
16. Manipur
Madhurjan Thongba
The way to make this unique dish is by making besan dumplings and dropping them in thick, sweetened milk along with some fresh coconut. It's like a mixture of all things wonderful!
17. Meghalaya
Pukhlein
Also known as a sweet bread in Meghalaya, Pukhlein is made of jaggery, rice, and is deep fried in oil.
18. Mizoram
Koat Pitha
This sweet dish is popular in Mizoram. With banana and rice being its main ingredients, this dish is made by mixing the two with jaggery, and is deep fried in oil. It surely is one interesting food item to taste.
19. Nagaland
Nap Naang
This dish is made from sticky black rice, which when cooked gives a deep purple colour. It is made using milk, black rice, water, and sugar. It's a relatively easy dish to make and it tastes amazing.
20. Odisha
Chenna Poda
An Odia dessert made from baked ricotta cheese, Chenna Poda is the Indian answer to cheesecake and is absolutely mind blowing. I hope you're updating your checklist, because this one needs to be on the top!
21. Punjab
Badaam Kheer
This sweet dish is popular among several states in the north, but it is the mostly made in Punjab. Badaam Kheer is made using almonds, condensed milk, sugar, and saffron.
22. Rajasthan
Malai Ghewar
Made especially during the festivals of Teej and Rakshabandhan, Malai Ghewar is a round shaped sweet made of maida, milk, and most importantly, desi ghee.
23. Sikkim
Sael Roti
This sweet dish is actually a popular street food item in Sikkim. It is sweet bread made from ground rice, banana, and sugar. It's like India's answer to the American Pretzel! 🙂
24. Tamil Nadu
Pal Poli
Pal Poli is a dish of maida rotis that are first deep fried, and then immersed in milk warmed with condensed milk and saffron. Sounds heavenly, doesn't it?
25. Telangana
Boorelu
A popular sweetmeat in Andhra, Boorelu is made during festive occasions. The balls are made from Bengal gram, jaggery, coconut and cardamom powder, and are dipped in a rice and gram-dal batter and deep fried. Sounds amazing.
26. Tripura
Awan Bangwi
This is definitely one of the most unique dishes that hail from India. Made of sticky rice, Awan Bangwi is made only in Tripura. It is made by mixing rice, cashews sauteed in ghee, raisins, and this mixture is put in cones made of banana leaves and is steamed. Definitely something worth trying!
27. Uttar Pradesh
Malaiyo
Malaiyo is a dish available in UP mainly during the winters. Its texture is thick, but it tastes lighter than air. And it's Malai, so there is nothing to question. Just grab a spoon and finish off that dessert!
28. Uttarakhand
Bal Mithai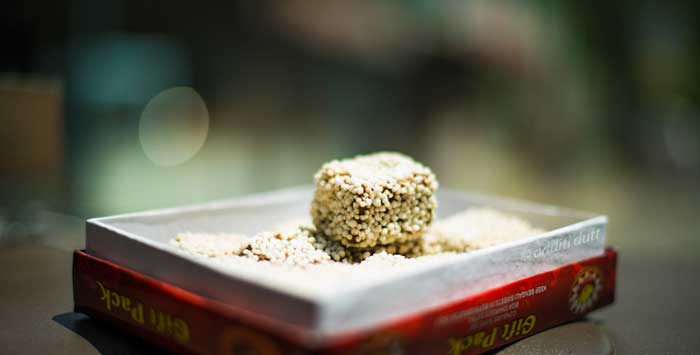 This dessert definitely looks cute, whether you're a sweet tooth or not. Native to Uttarakhand, Bal Mithai is cooked khoya covered in sugar balls. That is a whole lot of sweet, and you really have to be willing enough to take in so much of it!
29. West Bengal
Mishti Doi
This dish is, without a doubt, the dish to try out before you die. Native to Bengal, which is known for several sweet preparations, Mishti Doi is sweetened yoghurt. Made with milk and sugar, some of the sugar is caramelized to give it a lovely taste. It is also popularly served in earthen pots and bowls, because this material absorbs the water and makes the yoghurt more tasty and thick.
If you have a chance to try out a few of these, go ahead. It'll just take you closer to knowing the food heaven that is India.