Goa is among one of the few places in India that has mixed its native cuisine with that of a foreign nation's with the outcome turning out to be a complete lip-smacking wonder. If you think Goa, is all about the New Year festivities, the Feni (local liquor), and beaches then here's a list of 18 Goan recipes that will prove you wrong:
1. Kulkul
A sweet Goan recipe made from plain flour and coconut cream is made predominantly during Christmas is as looks as cute as it sounds and is as tasty as it looks. Try the recipe here.
2. Ros Omelette
This simple Goan snack recipe of Omelette drizzled with chicken or mutton gravy is just heaven for non veg lovers . Try it out here.
3. Mussel Rawa Fry
Mussels deep fried in rawa batter, this recipe could be the crunchy appetizer or the perfect chakhna you could want.
4. Prawn Balchao
Prawn pickle? We say yum. You can learn the recipe here.
5. Sannas
The substitute of bread in Goa, this recipe made from rice flour is served with every Goan curry. Learn how to make it here.
6. Chicken Xacuti
Chicken Xacuti (shakuti) is made with a medley of spices and is one of the most famous chicken recipes of Goan food. Here's the recipe for you.
7. Chicken Cafreal
This chicken recipe is a mix of Portuguese and Goan cuisine. You can try the recipe here.
8. Shark Ambot Tik
Just because it says shark doesn't mean it's scary. It is a sour (ambot) and spicy (tik) curry that is common in every Goan house. Try your own Shark Ambot Tik here.
9. Caldeirada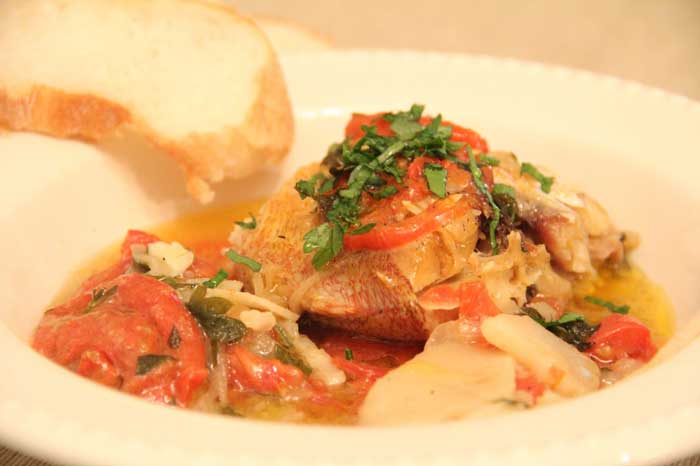 Originally taken from the Portuguese cuisine, Caldeirada is a fish stew that has many varieties of fish in it. It is heaven for sea food lovers and if you're one you can try the recipe here.
10. Pork Vindaloo
This traditional Goan pork dish flavored with chillies, garlic and vinegar is spicy and tangy all at the same time
and will leave you wanting for more. Check the recipe here.
11. Assado de Leitoa
Although this recipe of roasted piglet is Portuguese-inspired, it has been completely owned by the Goans and made amazing. You can own it too and check the recipe here.
12. Pork Bafat
This pork recipe is definitely not for the faint-hearted. The spicy Bafat masala is wonderfully spicy and tasty at the same time. Try the recipe here.
13. Feijoada

Feijoada is a basically a beef and bean stew of Portuguese origin that is served with rice and orange slices. Here's the recipe for you to try.
14. Fonna Kadi
This kadhi has coconut milk and kokum fruit as the main ingredients that make it a variant of the famous Kadhi. You can try your own recipe here.
15. Perad
This recipe of Guava Jam or Guava paste is known as Perad and in a recipe that every house in Goa prepares. You can try the recipe too.
16. Bolinha
These butter-coconut cookies are traditional Goan cookies that are made mostly during Christmas, but you can try it here now.
17. Bebinca
Bebinca, also known as Bebik is a traditional Goan 16 layered cake made from plain flour and is absolutely mouth watering. You can go try to make it now with the recipe here.
18. Chana Doce
This sweet made from chickpeas (chole) is a favourite among the Goans, and is made for all occasions. You can learn the recipe here.
So what are you waiting for? Pack your backs and run to Goa and if not, you can always go to your kitchen and try out these awesome recipes.