We all struggle 24*7 to pay our bills, have a decent lifestyle, buy expensive things and fulfil our dreams and in the bargain, we often forget to live the little moments in life. And sometimes, we lose all we have earned in just a fraction of seconds. But when it comes to life and death, only those who have had a near-death experience or have lost their loved ones know the difference well.
And it's very unlikely of a 23-year-old to pen down his perception of life and death in the early stages. But this emotional father took to Twitter to share his 23-year-old dead son's high school essay and it's an eye-opener for all of us.
The father from Philadelphia who goes by the name of @sam's dad on twitter shared a screenshot of his essay. He captioned it:
"My 23-year-old son passed away 2 weeks ago due to a complication from an autoimmune disorder. He wrote this essay in high school, which is a good reminder to all of us to live our lives to the fullest. He did, and positively impacted many people in his short life."
The essay starts by stating that life does have an expiration date.
"It may sound morbid, but people have an expiration date. Sometimes people don't even get a chance to make it that long. Car crashes, sickness, acts of God, all of the things have the potential to snuff out of the light of life. I don't dwell on this reality, I merely acknowledge it. Accepting mortality allows for a more fulfilling life. You are going to die, so be happy."
Here is the entire essay: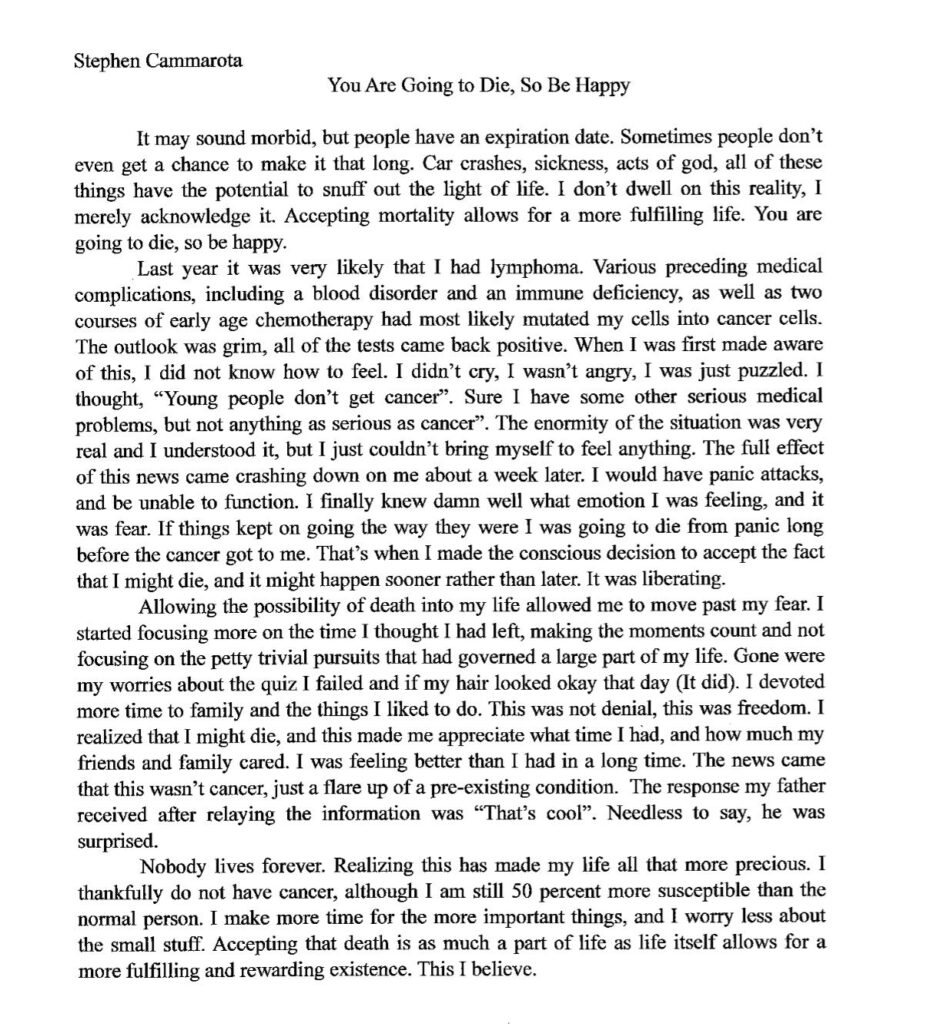 The essay left people teary-eyed who flooded the post with their emotional messages:
Thank you so much for sharing this beautiful piece by your beautiful son. I'm so very, very sorry for your loss. And so grateful for how he helped many others.

— Amy Cuddy (@amyjccuddy) September 5, 2019
This is beautiful. I saved this as a reminder to me and to share with others. Might put it on my fridge. I'm so sorry for your loss. May the memories of your wise and courageous son comfort you always. pic.twitter.com/9UilIH0Kyf

— Eleanor 🆘️ (@eleanor_rigby49) September 5, 2019
What a thoughtful, grounded, smart son you raised. His loss must be devastating. I am so sorry.

— Melissa Dinolfo (@melissa_dinolfo) September 5, 2019
thank you for sharing this. it matters.

i so sorry he is gone, what a beautiful soul. may you find comfort in every warm memory until that glorious day of reunion.

— Selkie Malka (@scotianselkie) September 5, 2019
Rest easy knowing because of this post, your son's brilliant writing will reach, inspire, and comfort millions. Helluva legacy.

— Donald Trump's Ego (@TheBigDsEgo) September 5, 2019
I am so deeply sorry for your loss. Your son was wise beyond his years. Thank you for sharing his wisdom and positivity with us. His words will help thousands, maybe more. Of that I have no doubt. They helped me.
Wishing you peace and light. ❤️

— I guess that makes me a freakin' liberal. (@SheStillResists) September 6, 2019
Wow. What an insightful & thoughtful person your son was. That was beautiful 🙏❤️😇

— ➕marianne➕ (@gardengirlove) September 6, 2019
Beautiful essay thank you for sharing. I'm sorry for your loss. I cannot imagine the pain of losing your child

— Blondon (@bonnie_london) September 6, 2019
So wise for such a young person, gives new definition to term "old soul". I imagine you must be so proud to have such an enlightened son. I am profoundly sorry for your loss as well. I lost a very young daughter, I am so sorry, but also, celebrate your beautiful son, his wisdom❤️

— ᎠᏌNᎬᎷYᎢᎻᎪNᏩ™️ (@Kris_Sacrebleu) September 5, 2019
My chin is up with pride

— sam's dad (@srcamm) September 5, 2019
It is true that in the rat race we often forget to live our lives. This boy's letter is indeed a reminder that living life to the fullest should be our priority because who knows, 'Kal Ho Na Ho!'