A few weeks ago, an adorable video of a little pup getting a grand welcome by his new family went viral online. The family had arranged for a 'grihapravesh' for the puppy, performed an aarti, and showered flowers on him.
And now, in a video that has gone viral, a fully decked-up cow is seen being welcomed into a new home during a 'grihapravesh' ceremony. According to people online, this is a common South-Indian tradition prevalent in Andhra Pradesh, Karnataka, Tamil Nadu, and Telangana.
According to tradition, a cow is made to enter the new home first, before anyone else. People even claimed that in some places, it is preferable if a calf tags along with the cow during grihapravesh. It is believed that this brings prosperity and positivity into the house.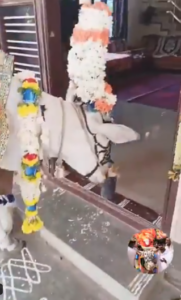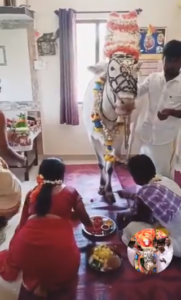 Have a look at the video here:
Didn't know of this tradition – gau mata is first welcomed into a new house – before others.
Tell me more.. pic.twitter.com/pMIvjnlh0i

— अद्वैता काला #StayHome 😷 (@AdvaitaKala) July 20, 2020
People took to the comment section to mention several other practices that are a part of this tradition. Have a look:
Pretty common in South India… In andhra pradesh where I come from..Actual tradition involves in bringing a cow to home and donating the cow to the priest who conducts the Ceremony..

— Kya bola kya bola (ఏమంటివి ఏమంటివి) (@Telugu_vaaru) July 21, 2020
Oh yes, In Andhra Pradesh & Telangana, a cow preferably along with calf goes inside the new home during grihapravesham.

— Uma (@Sivam333) July 20, 2020
It is a common practice in TN too. The first puja and first entry is always cow and calf. Even in apartment where cow can't climb steps, people do puja at main entrance.

— Muruganandam (@bilkul31) July 21, 2020
When we did our Gruha Pravesha, we did nice puja to a cow (not a bull), and led that first inside.

It is a custom in our family. Husband and wife will have to do very early morning puja to the cow, and only after the cow enters, others can.

— Kiran Kumar S (@KiranKS) July 20, 2020
Not only for geuhapravesh but even for 13 day post death rituals & annual ceremony, the first food served will be to a gomata & only then brahmanas are fed. Without cow no traditional ritual can be completed in Karnataka

— Chetan Anantharamu (@gandabherunda) July 20, 2020
We do that in south tamilnadu as well as long as i can remember. pic.twitter.com/ZyKv4FQgxj

— vinu shankar (@vinugshankar) July 20, 2020
Most of the South Indian house warming ceremony this is a tradition … all auspicious things like cradle, rice, Cow n calf , mother and kids, gold, fire, mirror, measuring instruments, etc go inside the house first before the owners … how Basra md meaningful …

— || Ahaṁ Brahmāsmi || (@chethboy) July 20, 2020
That's how griha pravesh is done in South. After the pooja finishes, the first guest to enter the house is gaumata

— Vidya 🖌️✏️🖍️ (@Vidya_AtCanvas) July 21, 2020
Pretty common in Karnataka. Cow is preferred and if its urinates or leaves cow dung in the new house its believed as blessings and good omen.

— chinmayas (@chinmayas2) July 20, 2020
Some highlighted how the animal seems to have a hump and thereby, it's a bull. In that case, the bull is representative of Lord Shiva. However, another person mentioned that this breed of cow is known as 'Killari' where even females have a hump and horns.
This has several meanings. One that I know is that She represents Kamadhenu and therefore is welcomed first into the new house.
If He is a bull then that is representative of Lord Shiva as Nandi.
In this video it would be the second I suppose.

— Partha Hariharan (@ParthaHariharan) July 20, 2020
It's a Indian Breed Cow "Khillari" they do have lump.

In Maharashtra we also have a Festival for Bulls in Shravan month called "Pola" we decorate the Bull and feed them "Sweet's"

It's just like their Holiday 🛍🎈⛱

— बाबुराव गणपतराव आपटे (@Babubhayya5) July 21, 2020
Ya at Andhra,Telangana,Tamilnadu and Karnataka this ritual is followed Cow & Calf is auspicious and that to it will done early morning before 5am. https://t.co/ksYqX0REie

— vasu (@mvasu35) July 21, 2020
Beautiful culture https://t.co/3vrWqhaFJj

— soya hua hindu samaaj (@tillwefindbette) July 20, 2020
Everyone does it in South India. Even after they move to the US I have seen people do that. The brahmin who does the poojas has contacts that bring a calf over for the ceremonies! https://t.co/y0GkAgCf8W

— Suresh Karanam (@sureshkaran) July 20, 2020
Such a beautiful tradition, isn't it?