Scrolling through online shopping websites is like tempting yourself. You might find a cute dress on sale. Or a nifty household item that saves you time and energy. And even something you know your partner would love. But every once in a while, some really absurd things turn up. Like coconut shells on sale for Rs.3000 or slippers made out of plastic bottles for Rs.1000.
Recently, gobar aka cow dung cakes have been put up for sale on Flipkart. Check them out.
Amazon India has them too. This one, for example, is a pack of 16 cakes for Rs.650. There's a 52% discount on it at the moment so it'll cost you Rs.309 only (plus shipping, of course).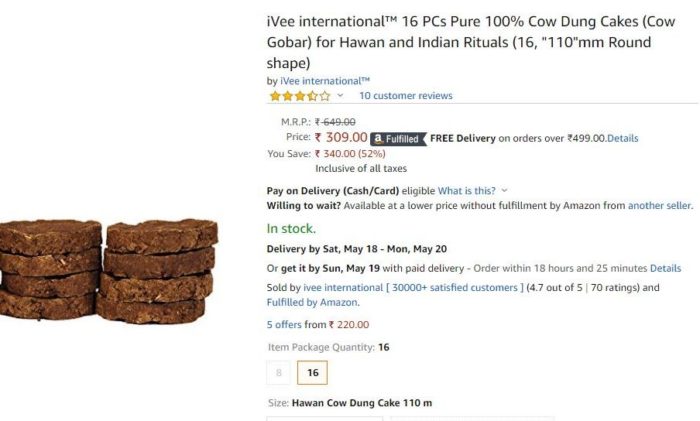 But it wasn't the product itself or the exorbitant price that caught our eye. It was, in fact, the rib-tickling reviews left behind by customers. Here are some of the best ones.
While there are helpful reviews that compare size, quantity and prices between competing sellers, these are just plain weird. Why would anyone want to put them in their mouth?
For those who are wondering about the product's usefulness, the listings explain that these cakes can be used as organic fertiliser, during hawans and other traditional rituals. Furthermore, some sellers claim that they can help purify the air if burnt along with desi ghee.
Cover Image Source – left, right