If you were to walk for two hours away from the Guarda district in Serra da Estrela, Portugal, you'd come upon the Conchos Lake. And if you travel further, you will chance upon this literal hole in the Earth that will make you think demons will sprout out of it any minute.
It's called the Covão do Conchos, and it's a spillway of a man-made dam in the Conchos Lake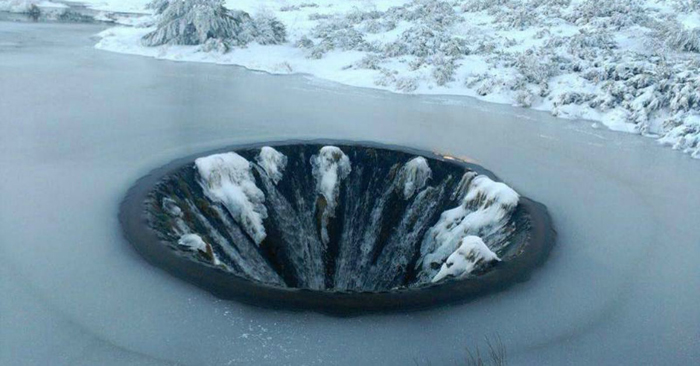 The dam was built sometime in 1955 and it has a spillway tunnel which measures to around 4,984 ft. in length. The water dries up in the summer, but it's overflowing in the winter, which leads to the formation of this hellish looking natural beauty.
There is no official record of this anywhere, and three Portuguese travellers chanced upon it while hiking
Back in 2014, they were hiking among the terrains of the Serra da Estrela, along the banks of the lake, when they stumbled upon this spillhole. They had camera gear and shooting equipment, and hence they decided to make a video of its beauty and put it up for the world to see.
Watch their video below, and skip to the 2:00-minute mark to see the Covão properly.
We've been around for innumerable years, and still the planet manages to surprise us!
A natural wonder indeed! ?
---
Fact source: Portugal Adventures
Cover image source