If you've been reading my previous write ups, I think I've firmly established the fact that in our country, 'progressive thought' is a distant prospect. Sexism runs amok without check, the mere mention of feminism calls for expressions of disgust and till date, the LGBTQ community is thought of as a bunch of exotic animals. However, a recent incident that took place in, lo and behold, my beloved city of Mumbai takes narrowmindedness to a whole new level!
A guy drove down to his girlfriend's college to meet her. As soon as he saw her, he stopped the car, got down on one knee and proposed the old-fashioned way with a traditional rose. She said yes, their friends cheered and he gave her a hug. However, things soon took a turn for the worse.
Someone shot a video of the entire proposal which went viral and evoked several hateful reactions.
Someone just shot a video, wow. Meri setting nahi ho rahi, doosron ki bigad do.
The guy was made to apologise on video and a local organisation, the National Lokhind Party vowed to further humiliate the couple by making them do squats in public and having a demonstration against them.
SQUATS?! For hugging someone?! Really?
The couple understandably felt unsafe and left the city. Here's what the girl's father had to say about the entire ordeal.
"We are upset. My daughter has threatened to commit suicide if the harassment does not stop. It's unethical of some people to react in this way over a silly mistake."
See, I was with the father until the first sentence, but 'mistake'? Showing your affection for the one you love is a MISTAKE?
Shakeel Raza, secretary of the Raza Academy, which made the guy apologise on video had this to say.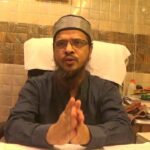 "We only made the couple realise their mistake and asked them to apologise for whatever they did publicly."
Of course, publicly humiliate the person who dares to express his love for another person. Perfectly logical.
Dinesh Katke of the Bhoiwada police station has assured that an FIR will be registered against all those who threatened the couple and shot the video.
"We will also serve a notice to the president of the National Lokhind Party for calling a protest march against the couple."
Civic activist Satyajeet Burman was infuriated by the incident and demanded that strict action should be employed to set an example.
"Those reacting against the couple should be booked under stringent sections of the IPC and the IT Act so that henceforth no one dares to interfere in the personal life of someone else."
Watch the entire clip, uploaded by 'Fake Ansari' below:
And here's the clip of his apology, uploaded by 'Faheem Ahmed':
https://www.youtube.com/watch?v=uUbprhW4bQM
We live in a country wherein public urination is an accepted part of the everyday scenery. But dare you show any kind of affection to someone you love in a public place. That's disgusting. You defiled a perfectly clean footpath that thousands of commuters walk on every day, cool. You held hands on the same footpath, DISGUSTING.
Well, what can I say, we are like that only.
News Source: The Times of India, Indian Express