When it comes to pre-wedding photoshoots, some couples go out of their way for extravagant concepts. From storylines to protests, we have come across many offbeat shoots.
A recent pre-wedding photoshoot of a young couple from Jashpur district has raised security concerns. They were photographed posing with Chattisgarh chief minister Bhupesh Baghel's helicopter "AW 109 Power Elite" at Police lines, Raipur last month.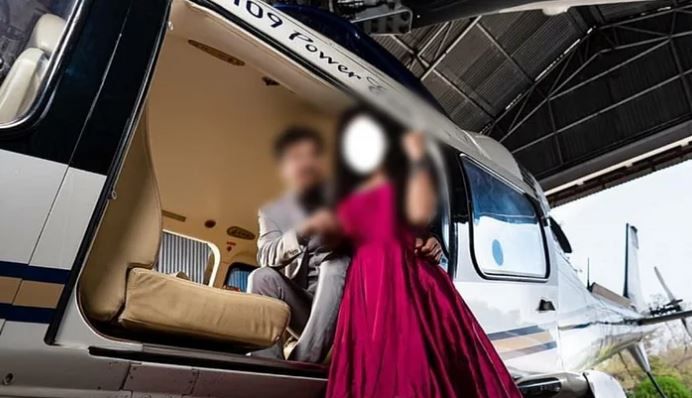 As per a report in HT, the driver Yogeshwar Sai in the Chhattisgarh civil aviation department was suspended for violating the safety norms of the state hangar and shunted to the directorate of aviation Nava Raipur. after the photographs surfaced online.
Raipur Superintendent of Police Ajay Yadav explained, "The pre-wedding shoot of the couple took place on January 20. A driver of the state aviation department took the couple inside the hangar and told the guard that they have got permission. Since the guard knew the driver, he did not object and the photographs were taken." He added, "Additional Superintendent of Police (Raipur Rural) will investigate the whole issue and report within a week."
CM Baghel took to Twitter and wrote, "An incident of a pre-wedding shoot in a state government helicopter has come to notice. I want the concerned officials to investigate this and ensure that such lapses do not happen in the future. Also, do not give too much attention to the matter. I wish the couple a happy married life. Be happy."
राज्य शासन के हेलीकॉप्टर में प्री-वेडिंग शूट की एक घटना संज्ञान में आयी है।
मैं चाहता हूँ कि सम्बंधित अधिकारीगण इसकी जांच करें और सुनिश्चित करें कि ऐसी चूक भविष्य में न हो।

साथ ही इस मामले को अब अधिक तूल न दें। मैं नव-दंपत्ति को सुखमय वैवाहिक जीवन की शुभकामना देता हूँ। खुश रहें।

— Bhupesh Baghel (@bhupeshbaghel) February 22, 2021
As per a report in DNA, Neelam Namdeo Ekka, Director of the state civil aviation department said, "Driver Yogeshwar Sai allegedly violated security norms and arbitrarily facilitated the entry of unauthorized people into the hangar on January 21."
It all sure turned out to be a costly affair. What do you think? Tell us!