Courage comes in all sizes.
Sometimes it comes in pint-sized people too. Actually, it seems like children are more courageous and brave in the face of true danger. Every year there are hundreds of children honored with bravery awards.
They have battled wild animals, terrorists, robbers, natural disasters, rivers and lived to tell the tale.
Let's look at the most exceptional of them all.
1. Mittal Pataditya fought off two assailants who attacked her mother and lived with more than 300 stitches
Mittal was just 12 years of age when assailants entered her house forcibly and assaulted her mother. And by assaulted, I mean started beating her badly, trying to extort money. Mittal didn't cower under a bed or scream in fear or run away, she attacked the two men beating up her mother.
One of them had a knife, and in rage, he started stabbing Mittal, while the other man fled.
Mittal was stabbed so many times in the same spot that she received 350 stitches. But she didn't let go of the attacker, who was later arrested.
Mittal won the National Bravery award in 2012 and lives in Ahmedabad.
2. Ratul Chandra Rabha and Rituparna Boro chased armed militants for 3 kilometers unafraid
Ratul and Rituparna were in the classroom when two militants called their teacher outside and shot him dead point blank. They didn't stay put at all. They started chasing the militants. We have to remember that it is the militants who had the guns and apparently they were the ones who were running away, firing shots in the air and also threatening to hurl grenades too.
Ratul and Rituparna were made of sterner stuff and chased them down for another 3 kilometers until they caught one of the murderers.
You don't need guns and grenades to give chase and fight all the time.
3. Tarang Atulbhai Mistry saved four people from drowning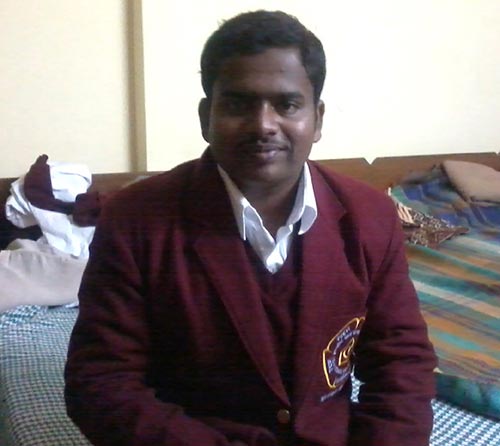 Saving a person from drowning is a Herculean effort. You have to put in the effort to keep yourself afloat and then somehow manage to keep the other person afloat too. Very few people can manage it and hence, lifeguards have such strict training and hard tests to pass before they are ready to save lives.
Tarang Mistry saved 4 drowning people in a river. He swam to each one of them and pulled them out of a flowing Narmada river.
He was awarded the Bharat Award for bravery in 2013.
4. Riyaz Ahmed lost his limbs as he saved a girl from railway tracks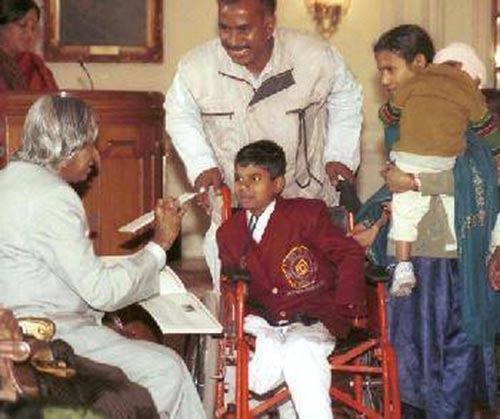 Some acts of bravery come at a cost. For Riyaz, it came at the cost of both his arms and legs. In 2003, Riyaz spotted a girl who was on the railway tracks on which a train was running towards her. Riyaz jumped without thinking and saved the girl, but lost his limbs in the courageous act.
He was only 9 when he committed this brave act.
5. Priyanshu Joshi fought off a leopard with his bare hands to save his sister
Humans are delicate creatures. Wild animals know that very well. In comparison predators like leopards are inherently built to kill. But not when a 10-year-old kid has balls bigger than most men put together.
Priyanshu Joshi was returning home with his sister after school when a leopard attacked them. Desperate to save his sister he fought off the leopard scaring it away. He hit the leopard with his hands and school bag and lived to tell the tale.
Priyanshu still loves wild animals despite this incident. Maturity and courage.
6. Boya Geethanjali fought of NAXALITES and rescued an MLA in the process
Naxalites are notorious for being ruthless no matter who they are attacking. On one such day in Andhra Pradesh, 11 armed Naxalites tried attacking and kidnapping a woman MLA. Boya fought them all and somehow, through pure grit drove them away and rescued the MLA.
She was 12 when she accomplished this impossible task.
7. Maibam Prity Devi threw a live grenade back after it was thrown into her shop full of people around it
Remember those movie scenes where the hero throws back the grenade back at the villain who threw it at him? As a 10-year-old, Maibam was tending to her shop in Manipur when she spotted a grenade militants threw in her shop.
Maibam picked up the live grenade and threw it out of people's range and into safety, saving all the lives in the crowded bazaar.
She suffered an injury from one for the exploded splinters.
8. Tyler Moon braved 9 cracked ribs and walked 2 kilometers to save his father
Tyler Moon was just 6 when he was quad biking with his dad in Australia. The bike lost control and both the father and son crashed suffering bad injuries. The father lost consciousness but Tyler was awake. He walked 2 kilometers to his mother to get help, being more concerned for his father than his own injuries.
Help came and that's when they found that Tyler had 9 broken ribs and punctured lungs.
9. John Clem became a sergeant when he was 12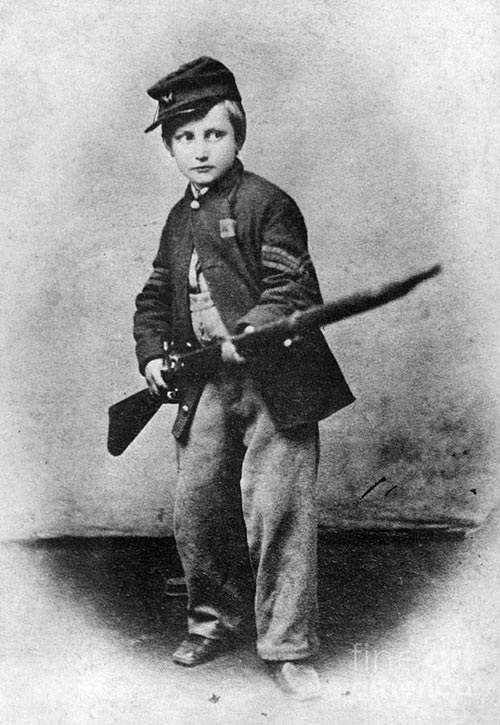 John Clem was just 12 when he started fighting in the American Civil War. Yes, you read that right. He fought a war when he was 12. He even shot and killed a colonel from the enemy army. He was promoted to the rank of sergeant at the age of 12.
He retired with the rank of Brigadier General in 1915.
10. Hanna and Haylee Smith lifted a tractor off their father's chest together
Hanna, 16, and Haylee 14 are superhumans. Their father was clearing his yard using a tractor. But during this task his foot slipped off the pedal and the tractor flipped and ended up on the father. Tractors weigh 1000s of kilos. In this case, it weighed 1400 kilos. Hanna and Hayley heard their father's screams and ran to rescue him. They called 911 but they knew help would take some time to come.
So they did the next best thing – they picked the tractor up with team effort – all 3000 pounds of it and their dad lived.
11. Aitazaz Hasan fought off a suicide bomber and died in the process. Guess who was the martyr?
What do you do when a gunman or a suicide bomber enters you school? Do you run? Do you look for your loved ones? Or do you fight them not fearing the consequences? Aitazaz Hasan was having a bad day as he was not allowed into the school because his uniform was not neat and he looked untidy. But turns out, courage doesn't come with tidiness.
Aitazaz and his friends spotted a suicide bomber entering his school. His friends fled but Aitazaz didn't. He fought with the bomber until the bomber detonated the bomb.
Aitazaz died. 2000 of his schoolmates lived.
12. Zna Gresham caught a newborn baby that was thrown from the second-floor window of a burning building
A building in Atlanta caught fire and a panicked mom, fearing for her children's lives threw them out of the window. She had three children – a newborn, a two-year-old and a three-year-old.
Zna saw two kids being thrown from the second-floor window of the burning building. She then stood below to catch the next one. It is a good thing because the third one was the newborn. Zna caught the newborn successfully.
If she hadn't the newborn surely would have died. The other two children survived.
13. Elliot Prior, 4, successfully negotiated with terrorists to let his family go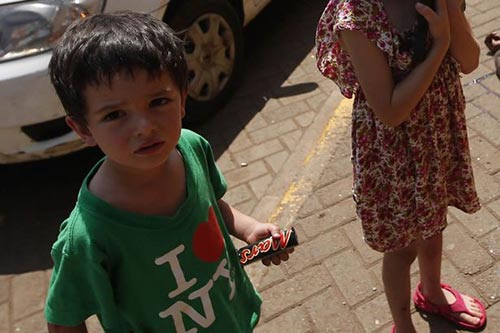 How do you take down a bunch of terrorists that storm a mall? Send in a SWAT team of course that will have a terrible gunfight with them and finish them in the end.
Or you could send 4-year-old Elliot Prior.
Elliot Prior was in a Kenyan mall when it was stormed by terrorists. His mother was shot in the leg and was screaming in agony. Elliot did not take this shit sitting down and ran up to the gunman and started screaming at them, and asking them to let them go. He also guilt-tripped them into releasing them.
And the terrorists actually released his family, in addition, gave them candy bars on their way out too.
14. Tilly Smith used school geography to predict the 2004 tsunami and saved hundreds of people.
Do you see those stupid posts where they keep on crying that we are not going to use Algebra and Geometry and Geography ever in our real lives? Well, turns out, it pays to pay attention in class. Tilly Smith was just 10 when she was vacationing with her family in Thailand.
She recognized the early signs of the tsunami when she saw the water levels rise slowly. She alerted her parents and everyone on the beach. She ended up saving more than 100 people, just because she paid attention in class and had the presence of mind to use the information when necessary.
Exceptional, aren't they?
It takes true bravery to fight off overwhelming odds against you and they did it despite them being "children".
It is proof that courage and bravery do not depend on age, training or ability.
Will is enough.