From fetching stuff to mimicking others, sniffing bombs and detecting diseases, animals can be trained to do a lot of interesting things. But have you ever witnessed a cat catching a ball like a pro goalkeeper? Well, if not, then here's a video of a feline flaunting its fielding skills, reports India Today.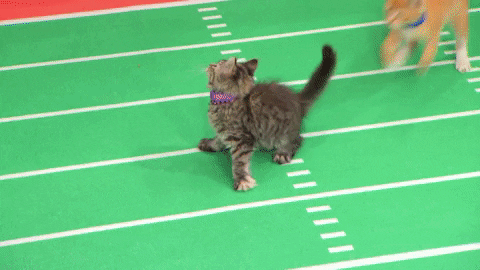 In a video shared online by former Australian cricketer and golf enthusiast Dean Jones, a cat can be seen catching a ball using its paws as a woman tries to score a goal. In the clip, the furball, standing in front of a miniature goal post, defends the ball from its opponent. As the woman prepares to hit the ball with her golf stick, the pet can be seen gearing up to catch it.
You need to watch the video to believe it:
I have seen worst fielders I can assure you! #whatacatch #gothim pic.twitter.com/qnP0YpPADO

— Dean Jones AM (@ProfDeano) August 4, 2020
Well, people online were impressed by the cat's skills. Even Indian cricket commentator Harsha Bhogle lauded the cat's prowess.
That second catch! 👏👏

— Harsha Bhogle (@bhogleharsha) August 5, 2020
best fielding coach pic.twitter.com/lts27qx5OX

— chandrakant j k (@c_kirdat) August 6, 2020
Can we take her for our next match against Bayern. @ChelseaFC you seeing this

— Retired Aquaman (@shehwaz) August 5, 2020
Never thought a cat video would make me feel so shit about myself 😟 how many weeks until the end of this season???

— Kevin Francis (@Kevo_Francis) August 5, 2020
12th Man Catman / Catwoman please

— Sailesh Israni (@saileshis) August 5, 2020
Ye tu biliyon ki jonty rhodes ha 😅

— Rehan Ashraf (@rehann09) August 5, 2020
Can we hire this cat for fielding coach #ENGvPAK

— Haider Ali (@Haiderali1432) August 5, 2020
Notice as she draws the club back the cat readies to pounce. Seems like a mutually beneficial activity. 👍

— John (@John65207811) August 6, 2020
Pretty sure it's due it's 'cat like reflexes' 😏😂

— Mir Ahmed (@Myaa0) August 5, 2020
The focus and the drop just before the leap❤️❤️❤️

— Ayush Sharma (@The_AyushSharma) August 5, 2020
Super fielding

— Saleem Dar (@saleemd24510481) August 5, 2020
Well, if cats had their own sports competitions, this one would definitely be the star. Don't you think?