Only if you're living under a rock would you not know that the trailer for the insanely anticipated sequel to Marvel Studios' Avengers: Infinity War has finally dropped. We finally have a name for Avengers 4, which was much speculated upon, and Avengers: Endgame trailer is EVERYTHING!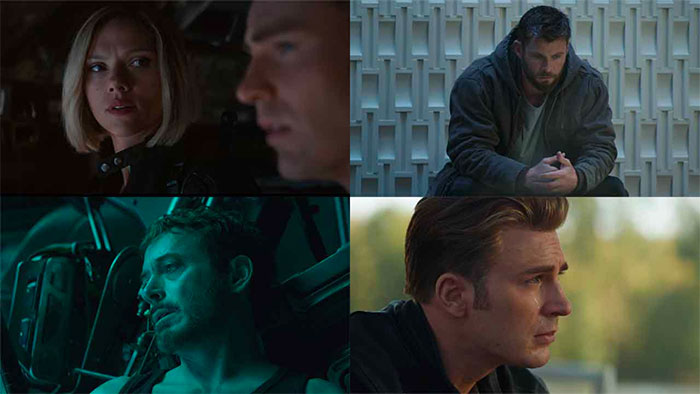 While the trailer is being discussed and decoded, there's one bone of contention that a lot of fans have with the trailer. Why is Steve Rogers aka Captain America's sexy beard gone?
No kidding. It's a legit concern. The beard that Chris Evans as Captain America sported during Infinity War is gone in a finger snap, just like Peter Parker and other heroes. And honestly, we don't feel so good.
I never thought i'd say this but….i kind of miss cap with the beard pic.twitter.com/aGfoNUcKlR

— Phloy 🎄 (@phloybarnes) December 7, 2018
And we do miss it!
Twitter had some very strong reactions, opinions, theories and condolence messages for the most important character that needed to return in Avengers 4—Cap's beard!
I mean, hello? Clean shaven is fine and all, but that beard was something, right?
When you have this major epiphany that sets the tone for the rest of Endgame…
can you believe that the first death in endgame is steve's beard pic.twitter.com/c9I88kPgFo

— ariana (@capsheroes) December 8, 2018
Fans are blaming the finger snap for this. And if it were true, then Thanos is indeed the Mad Titan to think Steve Rogers looks better without the beard! SMH!
Sucks that the Thanos snap also claimed Captain America's beard. pic.twitter.com/SCSBKB2IGL

— Zachary D. Rymer (@zachrymer) December 7, 2018
This would be painful to watch, but at least we'd have some closure!
deleted scene of thanos snapping and chris evans' beard disintegrating right offa his face

— jonny sun (@jonnysun) December 7, 2018
Y u do dis, Thanos?
the cruelest casualty of Thanos' snap is Captain America's beard 😭💔 pic.twitter.com/X8kwdy20Cf

— Angie J. Han (@ajhan) December 7, 2018
The tears were getting lost in his beard, so maybe?
I will never forgive Thanos for making Cap so tramatized he shaved his beard pic.twitter.com/y9KgD5qvJc

— Dani Fernandez (@msdanifernandez) December 7, 2018
Thanos, we've come to bargain! Let's do some maandavli!
Thanos can have everything just give Steve his beard back PLEASE #AvendersEndgame pic.twitter.com/cNpC0wmXO8

— Megan Affeldt (@MeganAffeldt) December 8, 2018
A funny observation, and quite an excellent one at that, was how Steve Rogers is the polar opposite of every sad depressed male! Because don't they grow beards when they're upset?
Most people get a depression beard. Leave it to Steve Rogers to do a depression shave.#Avengers4 #AvengersEndGame #CaptainAmerica pic.twitter.com/Idg9BHTrp4

— 🎄Dan-Yule 🎁 Con-Deer🎄 (@ThisOldNerd) December 7, 2018
Steve Rogers must be the only person in the world who would shave a beard when he's extra-sad instead of growing more of one.

— Elle Is Not Dead, Nor Doth They Sleep (@AnotherElle) December 7, 2018
There was a huge rallying to bring back Captain America's beard, which is an unnecessary martyr in this endgame, TBH!
feel like pure shit just want cap's beard back pic.twitter.com/euXm2ef2wS

— Bim Adewunmi (@bimadew) December 7, 2018
bring 👏 back 👏 cap's 👏 beard 👏

— Emma Stefansky (@stefabsky) December 7, 2018
I know Tony Stark would totally second this!
steve rogers grow ur beard back challenge

— agi (@finaIizer) December 7, 2018
That ONE person who has their priorities all sorted!
Listen, I know we are all in mourning over Cap's beard being taken away along with half of the universe. But can we all take a moment and appreciate that the best Captain America suit is making a comeback? #AvendersEndgame pic.twitter.com/STcHJ8oLRP

— The Boredom of Chris (@Renagade_11) December 7, 2018
On a related note though, did you notice the Winter Soldier suit's back? Another ominous sign that this is pretty much endgame for Steve Rogers?
Believe it or not, people wrote condolence messages and eulogies for the beard! It's that important!
a moment of silence for steve's beard. we only had you for 2.5 hours but it was the best 2.5 hours of my life. sad to see you go. thoughts and prayers go out to steve's bare chin, bare jaw and everyone else affected by this tragedy pic.twitter.com/RUa6pxB7UQ

— angela (@captaindeadpooI) December 7, 2018
OMG we feel you!
Me writing this Eulogy for Cap's Beard tbh https://t.co/YcKuSMaa5m pic.twitter.com/WOdt3IYTPK

— Preeti Chhibber (@runwithskizzers) December 7, 2018
Gone too soon, but not forgotten!
RIP Steve Rogers' beard, we knew you far too briefly

— Alex B (@halloitsalex) December 7, 2018
RIP Cap's beard. Gone too soon. #AvengersEndgame pic.twitter.com/lyGqCPXjcU

— SYFY FANGRRLS (@Syfyfangrrls) December 7, 2018
And this, oh dear god. Someone even made an 'In Memoriam' video for it!
This is so sweet!
Oh #CaptainAmerica's beard, we hardly knew ye. 😢 #RIPCapsBeard 2018-2018 #AvengersEndgame pic.twitter.com/P1qvVwnIZs

— SYFY FANGRRLS (@Syfyfangrrls) December 7, 2018
I'm not crying, you're crying!
And then finally, FINALLY someone said it!
Evacuate the city, engage all defenses, and get this man a beard. #AvengersEndgame pic.twitter.com/4i1J9gYPRq

— Dan Gubelli (@DanGubes) December 8, 2018
T'Challa would be smiling… wherever he is (try not to cry ok?)
Wakanda Captain America's Beard Forever!