A woman police officer's job is doubly difficult. Not only do they have to fight the usual crime – but also the patriarchal mindset of their colleagues and a glass ceiling that is supposed to be almost unbreakable. They also fight a mindset that is so deep in India – that women cannot be good law enforcers.
But it is actually the opposite.
Women are natural bravehearts, and all these qualities have given us very efficient female police officers who are breaking trends everywhere. Let's take some inspiration from them.
1. Usha Kiran – first woman police officer in CRPF
It is no surprise that Naxalite hotbeds are incredibly hostile. And the working conditions make even the most battle-hardened army soldiers respect the work of a CRPF jawan. And that's why Usha Kiran's story is so inspirational. She is the first woman officer to be posted in Bastar, Chattisgarh. She is just 27 and she is already inspiring girls from the tribal villages to take up education and join civil services.
When she is not policing, she helps tribal students with their studies in her camp. And if you thought she was posted there, she wasn't. She specifically requested to be posted in a male battalion in the extremely dangerous area.
Guts.
2. Subashini Sankaran – first woman police officer in charge of any CM in India
Post-independence, there has been no female police officer who has been in charge of any chief minister's security. That's more than 60 years where the police force did not believe in a woman enough to put a CM's safety in their hands.
But that changed with Ms. Sankaran. She took charge efficiently and fanned locations for security threats, mapped safe roads for convoys and even provided close proximity security for Assam's then CM Sarbananda Sonowal.
Her job has no room for even the smallest of errors. And looking at her track record, she has performed admirably!
3. Meera Borwankar – the first female police officer to head the crime branch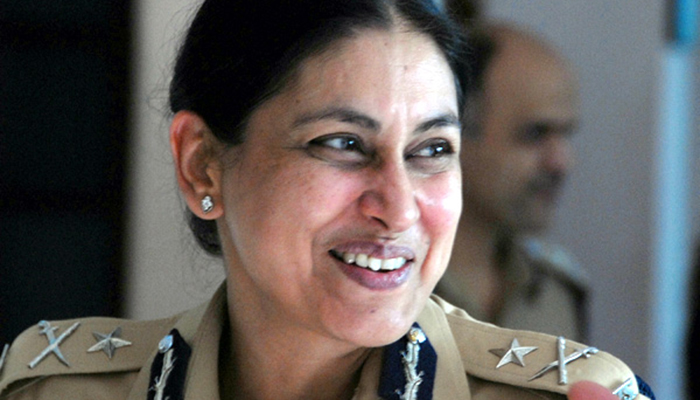 She is known as the woman supercop. And she should be because she was the first woman officer to head the Mumbai police crime branch. Mumbai's crime branch is the elite amongst police forces in the country. They deal with white collar crime and also the dirty Mumbai underworld with figureheads like Dawood Ibrahim and Chhota Rajan. If she was chosen to lead a task force so respected and capable, it only speaks how efficient she is.
Fun fact – She was one of the five people who witnessed the hanging of Yakub Memon.
4. Sonia Narang – DIG in CID
She's known to be as one of the smartest cops around. She's also a badass cop. She once slapped a politician for crossing the line, and has also been an officer in the National Investigative Agency and at the CID.
She is no-nonsense and believes that all are equal before the law. She also has zero tolerance for any kind of crime, as the poor politician now knows.
5. Kanchan Chaudhary Bhattacharya – first woman to be promoted to the level of Director General of Police (DGP)
Almost everyone knows that Kiran Bedi was the first woman IPS officer. Very few people know that Kanchan Bhattacharya was the second woman IPS officer. She has bravely faced rogue politicians and was even warned to not get "too adventurous". She believes in bringing sensitivity and kindness into the police force. No wonder she was promoted to the post of DGP.
She was awarded the President's medal and Rajiv Gandhi Award for being an outstanding achiever.
6. Sanjukta Parashar – the first and only IPS officer from Assam who fights against the Bodo militants
She is made of pure guts. She once took a team of policemen to crack down on militants who attack Army convoys in Assam! And while most police officers are known to hold desk jobs, Sanjukta is known to wear a helmet and full armor and go into militant-infested areas leading from the front!
A leader who knows how to lead.
7. Manzil Saini – Lucknow's first woman police chief
Manzil Saini is an excellent athlete and a gold medallist from Delhi School Of Economics. She punished indisciplined constables, busted a multi-crore kidney racket and even took on Samajwadi Party workers in Etawah for using tinted windows on their vehicles.
If Naxal areas are dangerous for police, UP is just as dangerous for a female officer. But she has performed admirably.
8. India's all-female Formed Police Unit sent to a mission in Liberia for the UN
From 2007 to 2016, an all women police force from India was on a peacekeeping mission in Liberia. The 125-strong contingent strove to keep peace every day in the country that has seen a lot of civil unrest. In February 2016 they handed over their responsibilities to the local authorities, their job well done.
They managed crime, reduced violence towards women and built confidence among the people in Liberia. They did a job so well that the Liberian president did not want them to leave the country.
9. Archana Ramasundram – first female police officer to head the paramilitary forces
If working as an officer in paramilitary forces is hard then leading them is harder. Archana Ramasundram leads the Sahastra Seema Bal that is tasked with guarding the borders with Nepal and Bhutan.
She was going to be posted in CBI but was judged better for leading one of India's premier Paramilitary forces.
10. Inspector Shakti Devi – who was awarded international female peacekeeper award by the United Nations
Afghanistan has been through a lot of tough times. Especially women over there have to struggle with stone age rule against them. In such a time Inspector Shakti Devi from Jammu and Kashmir made a difference by improving the image of female police officers there. She also helped in bringing down the instances of crime against women and general gender-based violence.
We only want to see more female officers take up the helm in policing in India where we are too sick of a sight of a policeman. It would be great if more such brave policewomen joined and made the Indian police more civil, kind and sensitive.
Here's to women in police!