The nuances of how you treat your lady, the eminence of how you hoist your little girl, the marvelous signal of being there for your folks and above all, respecting who you are. We require more men.
While the quirks of a boy enlighten our day, the wits of a man empower us in many ways. Their subtle sublime evolution has touched many hearts and lives in an extremely delightful way. Here's to men:
1. You started with taking money from your dad….To the time when you bought him gifts
2. You started with waiting for your mom to cook food for you….To the time when you surprised your parents with your cooking skills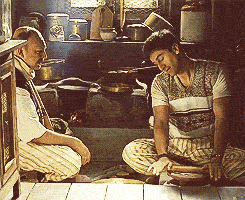 3. You started with complaining about your sister to your mom….To the time when you turned into her best friend & confidant
4. You started with being all "I am rebel" in school days….To the time when you settled fights and suggested solutions
5. You started with running after the girl of your dreams….To the time when you realized that love is not something you have to run after
6. You started with having 2000 FB friends….To the time when there was a cup of coffee and a chat messenger with your 2 best friends from school
7. You started with all the whine that people don't take care of you….To the time when you bought your first pet dog
8. You started with wearing un-ironed shirts to school….To the time when you flattered others with your tie tying skills
9. You started with feeling lonely when no one was around….To the time when you started enjoying solitude
10. You started with being a responsibility for your parents….To the time when you finally took their responsibility in your hands
There are so many ways in which all the women, girls, daughters, sisters and friends cherish the presence of a man in their life.
Because being a man is way too hard than being just a boy. Cheers!