Last month at The Sabre World Cup in Budapest, Hungary, 27-year-old Bhavani Devi from Tamil Nadu made history by becoming the first Indian fencer to qualify for the Olympics. The eight-time national champion had failed to qualify for the Rio Olympics last time but will be competing in Tokyo this time around, reports India Today.
First ever fencer from India to qualify for the #Olympics @IamBhavaniDevi Making 🇮🇳 Proud

#Tokyo2020  @Olympics pic.twitter.com/NDZ0cR3TVh

— Doordarshan Sports (@ddsportschannel) March 20, 2021
HT quoted her saying,
"I'm extremely happy to have made it this far, and hope to make my country proud at the Olympics. For a few minutes, I was thinking about the work I had put in, and the sacrifices my family had made for my fencing career… But I understand I've a long way so I'm taking this as the next phase of my career."
She thanked her Italian coach Nicola Zanotti saying, "We couldn't rely on flights and it would have been a 12-hour journey anyway, so my coach suggested we drive down. I'm so thankful for his efforts; he drove to and from the venue of the tournament. And we made sure that we take all safety precautions."
Everything I went through was worth it: @IamBhavaniDevi after qualifying for @Tokyo2020 Olympics

Read: https://t.co/Z8yR5p6rTF pic.twitter.com/lKUViBMt7J

— TOI Sports (@toisports) March 15, 2021
Recalling the unconditional support of her parents despite financial troubles, she added,
"In spite of having five kids to raise, my parents never compromised on my training. They understood my desire to play. For 10 years they faced immense struggle and went beyond their means to help me out. My mother pawned her jewellery when the going got tough, and that is what got me here."
Thank you very much to our Hon'ble Sports Minister @KirenRijiju sir for your blessings & kind words of encouragement. I will strive harder n bring more laurels for our country 🇮🇳🤺 #TokyoOlympics #TeamIndia @PMOIndia @narendramodi @rajeevmehtaioa @ANI @PTI_News @VPSecretariat pic.twitter.com/7OBHwOtHeS

— C A Bhavani Devi (@IamBhavaniDevi) March 19, 2021
"Fencing is a costly sport. We would practice with bamboo sticks for we couldn't afford to break the swords we had! When I was young, I was inspired by sportspersons like Sania Mirza, and wanted to play some sport. In the sixth standard, new games had been introduced in our school in Chennai, and when I went to sign up, only fencing was available because all other slots had been filled!"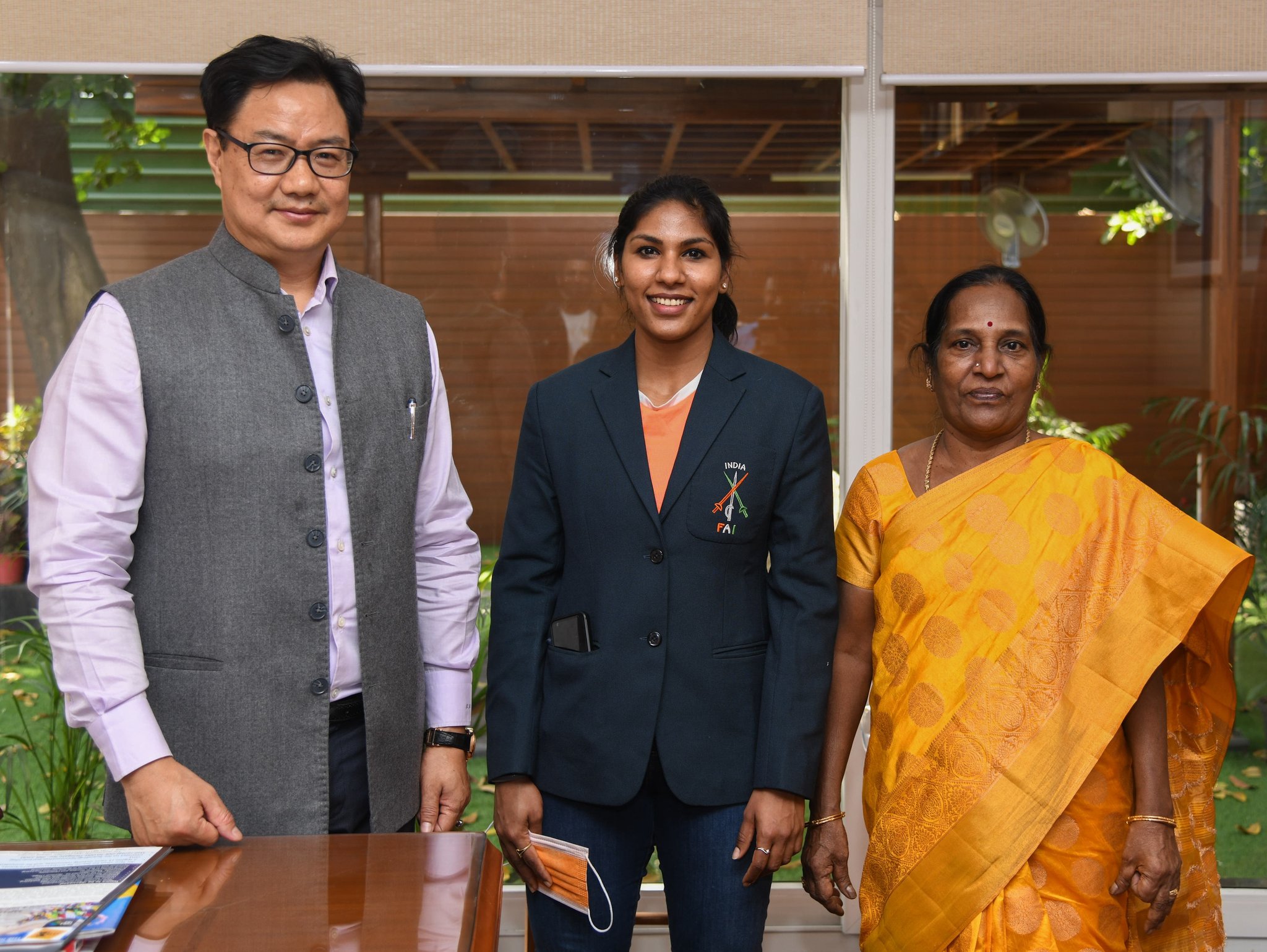 "It's a lonely journey. It's not a popular sport, and not many cared for it… but thankfully, I worked hard and support came in from different quarters. At the beginning, I felt alone but knew what I'm doing is more important… I don't want any regrets, that maybe I would have made it if I did not go out for that party or that outing."
Speaking of the weight of expectations she said, "I'm going to take this pressure positively. No one has seen me perform before, and now I'm looking forward to (the whole of) India watch me play! What I am trying is very new; no one has qualified for Olympics in fencing from India before. So I don't have anyone to look up to or chase their journey. I'm, therefore, carving a brand new path and I won't stop till I've succeeded."
All the very best Bhavani! You've made us all proud!