"Hum ek baar jeete hai, ek baar marte hai. Shaadi bhi ek baar hoti hai, aur pyaar bhi ek hi baar hota hai."
This was the very first relationship advice I had received at the age of 3 or 4 while watching the legendary Kuch Kuch Hota Hai. It was only till much later that I realised ki pyaar baar baar hota hai!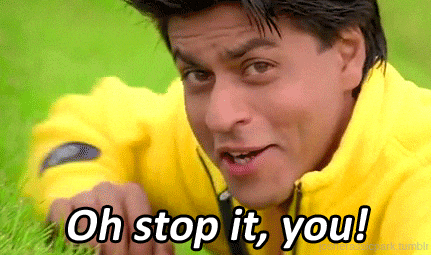 Anyway, what I'm trying to say is that our idea of love, relationships, and dating has been heavily influenced by the movies we watched and the books we read. Sometimes they end up giving you the best life lessons.
Speaking of which, people on the internet have been talking about the best relationship advice they got from movies. Most of the movies quoted by people are some of everyone's favourites – 'Pulp Fiction', 'Harry Potter', '500 Days of Summer', etc.
The conversation started when a person online popped up the question, "What's the best relationship advice you've ever gotten from a movie?"
What's the best relationship advice you've gotten from a movie? Asking for a friend.

— MGM Studios (@MGM_Studios) August 11, 2020
And people on Twitter responded!
— kerry b (@gwynzach) August 11, 2020
"Don't you hate that, uncomfortable silences. Why do we feel it's necessary to talk about bullsh*t in order to be comfortable? That's when you know you've found somebody special. When you can just shut the hell up for a minute and comfortably enjoy the silence."
Pulp Fiction 1994

— Memory Ponce de Leon (@memorypdl) August 11, 2020
Bill Nighy in About Time: "Just try and marry someone kind." pic.twitter.com/gDgZLu1gVb

— The Big Picture Movie Blog (@TheBigPictureM1) August 11, 2020
Don't date a girl who has 7 exboyfriends who want to kill you

— Ethan Neil Holloway (@therealethanhol) August 11, 2020
from The Adjustment Bureau
David Norris: "I can go through this door alone. You'll never see me or the people chasing us again, or you can come with me, and I don't know what's on the other side, but you'd be next to me and that's all I've wanted since the minute I met you."

— Nathaniel Funte (@Fun_Tea_Drinker) August 11, 2020
#TheHoliday pic.twitter.com/uLruErDj1Z

— Hiddlestruck (@HisHiddleness) August 11, 2020
Men and women can't be friends. pic.twitter.com/q5QjJJVUMN

— Andrew Cohen (@andrewjcohen22) August 11, 2020
"I don't want us to end…it took years for you to perfect the art of the silent dance in the mornings to not wake me up as you left for work." A new person cannot learn to be who you are to me, overnight; we have history. (not verbatim but you get the idea)

— Summer Love Bair (@SumLov) August 12, 2020
"You're not perfect, sport, and let me save you the suspense; this girl you met, she isn't perfect either. But the question is, whether or not you're perfect for each other. That's the whole deal, that's what intimacy is all about." – Robin Williams, Good Will Hunting

— MasterAndyWan (@MasterAndyWan) August 12, 2020
— darius (@IHat3Demacians) August 12, 2020
"Be sure to hold her hands. Be brave to show your love. Cus you dont know what future holds you, you just really hope that the person you fall for is right there. Theres always a hope"

— 木遁 (@naemhakim) August 11, 2020
"We accept the love we think we deserve."

— Cammie Conn (@Ham4Cam) August 11, 2020
— Watch Pass (@WatchorPass) August 11, 2020
To allow yourself to feel, even if it hurts. To numb yourself is just wrong. And also that love is essential, to forgive and to fight for what you believe in :))

— Clement Rose (@XclementroseX) August 13, 2020
— Eels (@LNL) August 12, 2020
"There's a time for daring and there's a time for caution, and a wise man understands which is called for" from Dead Poets Society

— Bill Adkins (@BillAdkins91) August 11, 2020
"If it's not written in the stars to be together , we can re–write the stars" Movie: "THE GREATEST SHOWMAN"

— Patrick (@ralp9) August 12, 2020
"Constantly talking isn't necessarily communicating."

— Esen (@simplyesen) August 11, 2020
All endings are sad .. otherwise they would not end.

Tom Cruise / Coctail 🍸

— Kenneth Palermo (@kennypalermo) August 11, 2020
https://t.co/GlCSBoSlGT pic.twitter.com/E2kblwi1rW

— ❀ Renae McBrian ❀ (@yerawizardrenae) August 11, 2020
https://t.co/2zumiRJINK pic.twitter.com/RQNwGJowtX

— кαт мιℓℓєя (@RubyWizard24) August 11, 2020
For me, the best (and groundbreaking) relationship advice that a film gave me in recent years is 'Dear Zindagi'.
"Hum itni kursiyan dekhte hai ek khareedne se pehle. Phir apne life partner choose karne se pehle humein options nahi dekhne chahiye kya?"
What's the best relationship advice you've gotten from a movie? Tell us!