There are times in life, when your happiness generates from other people's happiness and your best friend getting engaged is one of those times. They take a leap of faith and take the first step towards a stable relationship, and this makes you happy for them because it makes you think that they are finally growing into mature, responsible adults. And there is no other way you can react to their news, except for pure, unselfish happiness and sheer joy.
1. The first reaction you give is lot's of screaming and shouting
#Fangirlingstyle
2. You immediately want to see the ring if you're a girl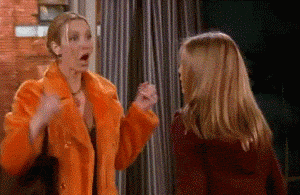 What cut? How many carats? What's the clarity?
3. The extensive planning begins…
… and never stops.
4. "How did he/she propose?" is another question
5. But the major question asked here is: Bachelor's party kahan hai?
6. More importantly, you need to discuss the "special attractions" of the bachelor's party
7. The teenage phase where your best friend has an S.O. and you snicker at them is back
Because there's nothing like behaving juvenile with them.
8. You cannot stop talking about when the wedding dates will be fixed
9. The extensive "what to wear" discussion will soon begin
10. And the more important discussion of "whom to hit on" will follow
11. You already start addressing their S.O. with your own different nicknames
12. When the dates are announced the mental countdown begin…
…because you are obviously as excited about their marriage as your best friend.
13. And sometimes you wonder why you chose to remain single
You could have been engaged as well
14. But then you realize, you are happy just the way you are – for yourself and more for your best friend
And then the marriage plans begin…