There is a massive gap between the salaries of male and female cricketers in India. Recently, the BCCI announced the annual contracts for cricketers from both genders and there could be seen a significant pay disparity.
NEWS: BCCI announces Annual Player Contracts for #TeamIndia (Senior Women) for the period from October 2020 to September 2021.

Details 👉 https://t.co/jJKSarT8xn pic.twitter.com/suSJUkm2zw

— BCCI Women (@BCCIWomen) May 19, 2021
According to NDTV, both categories – male and female – were divided into 3-4 groups. A+, A, B, C for male cricketers and A, B, C for female cricketers. The highest salary for male cricketers in the A+ category is listed as Rs 7 crore and the highest salary for female cricketers in the A category (there is no A+ category for females) is 50 lakhs.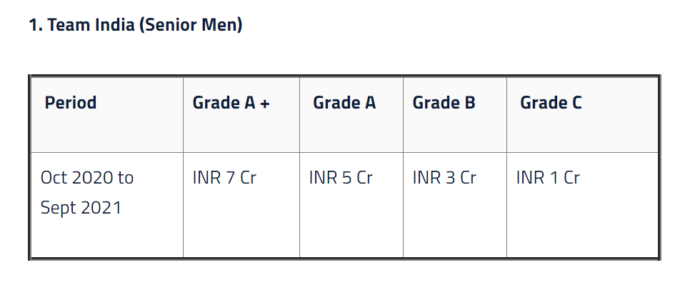 The lowest salary for male cricketers in the C category is Rs 1 crore – 50% higher than the highest salary for female cricketers.
This news didn't go down well with several people online. Many slammed BCCI for the glaring pay disparity and highlighted that women cricketers deserve better.
This gender pay gap is outrageous! It must be corrected immediately https://t.co/IpjzCzcvz2

— Faye DSouza (@fayedsouza) May 20, 2021
'Let women's cricket generate as much revenue and interest as men's cricket. Then they can get more games and money' …
… is a silly argument precisely because it is part of the bcci's job to ensure women get more opportunities and for their matches to generate more revenue

— Siddhartha Vaidyanathan (@sidvee) May 21, 2021
1. "Women don't play as many matches, so they don't deserve par salary"

Women players don't have agency over fixtures – it is up to the BCCI to schedule regular games for them. They don't deserve to be paid peanuts because BCCI could not care less about them playing.

— mahu's thoughts dot blogspot dot com (@originalmiks) May 19, 2021
There were some who tried to justify the pay gap by highlighting that men's cricket generates more revenue, have more viewers, and have more matches than women's cricket.
However, this argument was countered by cricket fans who claimed that the excuse was an age-old justification for the under-representation and underfunding of women's cricket. They added that it is the BCCI's responsibility to organize more matches for women's cricket and increase their commercial value.
BCCI announces packages for India Women.

The usual frugal amount compared to their male counterparts.

Sexism on Indian cricket Twitter will now bifurcate into:

1. Brazen sexism. Women, hence.

2. Sexism in the guise of capitalism. Profits generated, hence.

As always.

— Abhishek Mukherjee (@SachinAzharCT) (@ovshake42) May 19, 2021
To add a bit of context, of the 26 per cent of BCCI surplus (excluding IPL) distributed among cricketers: Senior international men get 13 per cent, Senuor domestic men get 10.4, women and junior cricket get 2.6 per cent.
Yess, 2.6 per cent. Promotion of sport, you see!!!

— Amol Karhadkar (@karhacter) May 19, 2021
A Grade C India men's player earns INR 1 Crore. The three players in India women's highest pay grade get only half of it. The Women's team may not fill your coffers, but they have no obligation to it. The onus on increasing their commercial value is responsibility of the BCCI.

— Venkata Krishna B (@venkatatweets) May 19, 2021
A 'Grade C' male cricketer gets twice as much a 'Grade A' female cricketer would. #BCCI #India https://t.co/GPhKSbT72G

— Manasi Pathak (@ThatUnitedLady) May 19, 2021
When both genders work equally hard, then the pay should be equal too ✌️

— Akshita (@Akshita05306363) May 20, 2021
First of all, it's not about the money, it's about kind of structure created by men where they continuously remind women that, listen lady that's your place in society and don't ask for more.
And cover up it with👉well that's all about demand and supply and we believe in equity.

— Lokesh Yadav (@Lokesh49554273) May 20, 2021
My head hurts & heart breaks having to read through the many responses to this.
Gender pay gap is one thing; the age-old defence, casual sexism, mansplaining & dismissiveness of players, even just in tweets, is awful.
And women have to live with it, play & win with this attitude. https://t.co/YBkOujJou3

— ZENIA D'CUNHA (@ZENIADCUNHA) May 21, 2021
What do you think of this incident? Tell us.