For many, winter is the best season. For some others, the rainy season makes for the perfect setting to have a cup of chai and pine for a lover. For me, nothing beats Bangalore in spring!
All you need to do is step out and hit the road – you'll find the city draped in pink. It's the season of blooming trumpet trees and bougainvillaeas and boy, does the city look absolutely stunning.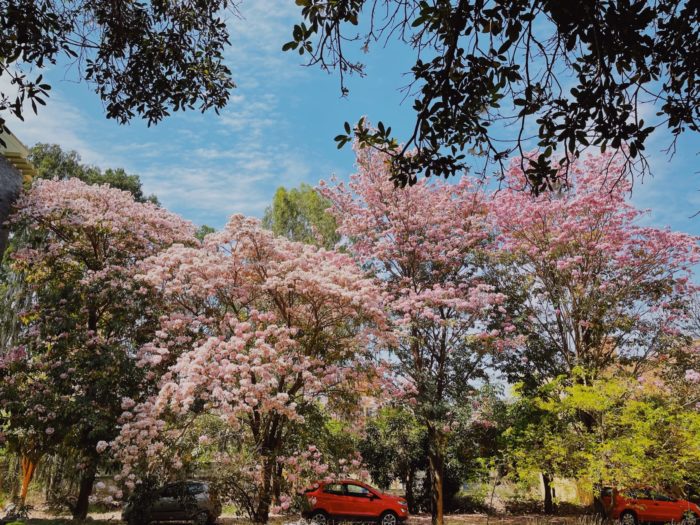 I mean, who needs to go to Japan to see Cherry Blossoms when Bangalore has such a view?
Several Bangaloreans took to social media to share beautiful pictures of the city. Have a look:
Bangalore city is truly a delight 💕💕💕 – Avenue trees in AECS Layout!! pic.twitter.com/NME6qK5Eyq

— Clement C Jayakumar (@Clementcjayakum) March 22, 2021
Bangalore is such a vibe rn🌸 pic.twitter.com/ECVTFt3Uh3

— Neel (@neelhimself) March 22, 2021
Beautiful Bangalore. Spring blossom 🌸🌸🌼🌼 is here! pic.twitter.com/8VdnNbWqwd

— RK Misra (@rk_misra) March 22, 2021
Streets of #Bangalore #Bengaluru 💕 pic.twitter.com/d8nyxKugD8

— Y.S.K (@yskanth) March 23, 2021
Bangalore in March is a thing! pic.twitter.com/NNenC2PWa5

— Saransh Agarwal (@SaranshVAgarwal) March 21, 2021
Pink Bangalore+folklore is a good vibe methinks pic.twitter.com/HzGwwuMvUs

— Dreams in melancholy// Riz's oscar agenda (@Descndingbatman) March 20, 2021
Spent a glorious Sunday amidst the most majestic trees. Bangalore spring is truly a balm for the tired soul. pic.twitter.com/cD4rmcCQFE

— Anwesha Ghosh (@onneshaghosh) March 22, 2021
Time of the year when #Bangalore is all pink 😍 ! My favourite city in the 🌏 ! Perfect people and perfect weather ❤️ pic.twitter.com/d0M6MnZANc

— Archana Sahay (@ArchNeha) March 23, 2021
Bangalore is so fkn pretty pls I want to be a bird in these trees🥺 pic.twitter.com/usQKGFErrI

— || vincentvangohoe ||🍒✨ (@chibbermeister) March 20, 2021
Not just pink, you'll also find some other soothing shades like yellow and white!
Haven't admired your beauty in a while, Bangalore! pic.twitter.com/JlNH5xrzT6

— Himanjali is learning (@himanjali_j) March 19, 2021
Pink and yellow trumpet trees everywhere 🥰 Bangalore blooming pic.twitter.com/qKshgQJIoC

— pranava (@pranavatandra) March 19, 2021
If "picture perfect" was a place, Bangalore in spring would be it!