Last year, famous luxury fashion house Balenciaga came up with 'Shopper Bags' that looked like desi pishwi and sold them for ₹1.5 lakhs. Well, again this year, the brand has launched something that has brought them into the limelight, but not for the right reasons.
The fashion label recently unmasked their latest limited edition collection of distressed shoes named the 'Paris Sneaker'.
Yes, this is how the 'fully destroyed' shoes look like that the brand is selling for a whopping $625 (Rs 48,243) and $495 (Rs 38,208) and are available for pre-order.
These remind me of those pairs of shoes we would unearth during our Diwali ki safai that mom would not even take a second to throw them away.
Sharing the inspiration behind these worn-out sneakers, Balenciaga wrote on its website

that these sneakers are meant to be worn for a lifetime.
"A retooled classic design interprets mid-century athleticism and timeless casual wear in black, white, or red, with a white rubber sole and toe. It is finished with distressed canvas and rough edges, affecting a pre-worn look. These still-life portraits, by photographer Leopold Duchemin, suggest that Paris Sneakers are meant to be worn for a lifetime."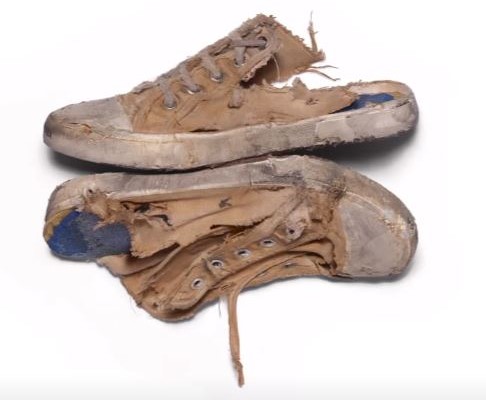 Like me, Twitter was also not convinced with these newly launched completely destroyed shoes.
Balenciaga is releasing a new pair of shoes, and I have to assume they are just trolling people at this point. pic.twitter.com/IsJaBxCvy6

— Joe Pompliano (@JoePompliano) May 9, 2022
If you bought the $1,850 Balenciaga sneaker that looks like it was run over by a lawnmower please seek help but also please reach out to me because I would like to understand where your mind was at in that moment.

— brendandunne (@brendandunne) May 10, 2022
These are the brand new balenciaga Paris sneakers that are being sold for $1850 , mad people have been ahead of trend for years😂 pic.twitter.com/0SlhtYLQ11

— jeff (@jefff256) May 10, 2022
No one:

The new Balenciaga sneakers: pic.twitter.com/AvHqJPZjc3

— Saint Hoax (@SaintHoax) May 10, 2022
I honestly thought these were ones found underground from cave man times https://t.co/48RQ13KiDJ

— Elise Rennárt (@Eliserennart21) May 10, 2022
Alright, this is the worst sneaker I've seen today… Balenciaga has to be trollin pic.twitter.com/nmMTDePmB6

— Seth Fowler (@RealSethFowler) May 9, 2022
Selling my brand new Balenciaga shoes, never been worn pic.twitter.com/edZ7MXe8ze

— Clutch's Twin Brother (@CrutchTheBear) May 10, 2022
Looks like what students wear to get into clubs https://t.co/xy7xbzj6Mf

— CH 🇵🇸 (@ch_ginge) May 10, 2022
Rich people love to look poor 😢 https://t.co/LFH0EHK0YK

— April Viernes Bosque (@Tweetoti) May 10, 2022
balenciaga, u will never see heaven. pic.twitter.com/Q3PjQ4smox

— michelle (@mochshell) May 10, 2022
The important question:
@diljitdosanjh would you like to go with this collection? https://t.co/5vZyk68D7s

— Harpreet (@Harpree56815689) May 10, 2022
I mean, the shoes are already worn, extremely dirty, and cost a majority of my savings. Why would anyone buy them?