All the products mentioned are handpicked by our writers & editors. We sometimes use affiliate links in our content. This means if you click on the link & purchase an item, we will receive a small commission at no extra cost to you. We hope you love the products we recommend.
My latter half of 2020 went by scrolling through the wedding pictures of celebrities and congratulating my newlywed friends and acquaintances. And I think this wedding wave isn't going to end soon. Well, if your friends or BFFs are getting married soon, a bachelorette party is something they truly deserve. But are you freaking out just thinking of all the planning? Don't worry then, we got your back.
Here's a list of some amazing bachelorette party essential items. Just order them online and get the party started!
First up, we need to be in the party mood ourselves and for that, all you bridesmaids can get this quirky gold or silver temporary tattoo. Even if you are throwing a pool party or a destination bachelorette party in a humid place, these tattoos won't budge for 5-7 days and will perfectly fit your back, wrist, hand or arm.
Get it here.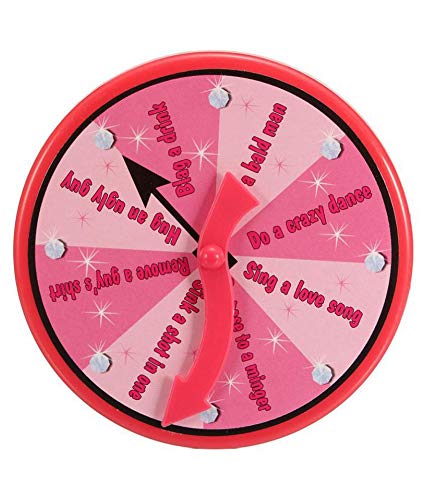 A hen party is incomplete without having some fun, right ladies? So, to have the ball rolling this 'Dare Or Drink Spinner Wheel' is just the right product. It's ideal when you are planning to have an intimate, in-house party and don't want to risk going out amid the pandemic.
Get it here.
The woman of the day needs to feel like a queen and what's better than making her wear her own crown. This floral headgear is nothing but classy. Moreover, she can even sport it during her Mehendi function or while she is walking by the sea with her husband on their honeymoon.
Get it here.
You must be looking for some balloons and banners to decorate the area, right? Don't worry, we hear you. This 18-piece party set that consists of 2 pink bride-to-be foil curtains, 1 banner, and 15 foil and latex balloons is the combo you need to prepare that perfect background for those Instagram-worthy pictures.
Get it here.
Next up is this yummilicious snack because bhook sabko lagti hai! Keeping in mind that all of you must be at your 'healthy eating' stage to look bomb on her D-day, these no-maida cookies are healthy, loaded with nuts, and are vegetarian too. You can also add a personal touch by pasting a heartfelt handwritten note on it.
Get it here.
Here's another game that will give an interesting spin to the celebration. The dare cards add a lot of spice to the sleepover with friends. They are portable and can be carried out if you are having a party in a distant land.
Get it here.
I think a sash is a must on this very day. Moreover, the bridesmaids also get to feel extra special. Not to mention how cute you'll look together when posing for a picture in coordinated sashes.
Get it here.
The bride would look absolutely stunning with this 'Wedding Ring Balloon'. Apart from adding the much-needed aesthetics, a pic with the ring balloon would be perfect to share the word with the world if she hasn't changed her relationship status to engaged yet.
Get it here.
With all the excitement comes stress and anxiety. Whatever it may, the bride needs to pamper herself A LOT to look effortlessly flawless on all her wedding functions. And for that, this luxury spa skincare kit is just the one you need to gift her.
Get it here.
Some people just cannot let loose without having a couple of drinks. Well, for them these syringes are the quirkiest items to gulp down on their favorite cocktail. They also make for a perfect decorative item at your in-house bar.
Get it here.
If the theme of the party is 'psychedelic' then these neon LED balloons will make for a perfect decorative piece. Just buy a pack of these 20 random color balloons, throw them in the room or any closed area, switch off the lights and let the magic unfold. How dreamy!
Get it here.
These 100% cotton t-shirts can be another addition to make the bride feel loved. All those in attendance can wear one with 'Bride's Squad' printed on it while the swagger bride can wear something contrasting for her day. The pictures clicked like this are sure to get a lot of likes on your social media.
Get it here.
These comfy AF sliders should definitely make it to your footwear list. You can even wear matching slippers as the bride or gift them as party favors to your wonderful friends who pulled off such an eventful bachelorette party for you.
Get it here.
Since she's getting married amid the pandemic, be a good friend and remind her to follow all the safety guidelines especially wearing a mask. To make it more fun, you can present her this bride print mask made with comfy and soft stretchy fabric.
Get it here.
I'm sure you would be overwhelmed by all the efforts that your mates have put in to make your bachelorette party so memorable. Hence, to express your gratitude towards them you can gift them an assorted swag bag that contains vegetarian, gluten-free, low sugar, flavored chocolates.
Get it here.
It's not just her bachelorette, the bride needs her veeres by her side even on her D-day. Hence, you can always root for her and silently say, 'we got your back' by wearing these 'Bride Squad Wedding Badges'. What say, ladies?
Get it here.
When you are taking care of all her things then how can you forget her honeymoon? She needs to feel and look sexy and this silky-smooth satin fabric babydoll nightwear robe is the one you need to gift her. There is a myriad of colours and patterns to choose from.
Get it here.
Well, ladies, this is precisely all you'll need for an eventful bachelorette party. If you have any more ideas, do share them with us.