For the past decade, Arijit Singh has been the face of the music industry in Bollywood. Delivering back to back hits in big and small banner films, the 'Tum Hi Ho' singer manages to touch every inch of our hearts with his voice. Considering the number of concerts he performs worldwide and his releases, among other things, one would think that the man lives a lavish life in Mumbai.
But that's not the case. Despite his ever-increasing success, Arijit Singh is grounded. And not just the kind of grounded that many celebrities pretend to be. Singh doesn't mind wearing an old t-shirt, a pair of sweatpants and slippers and wait outside his son's school amidst other parents, like a commoner.
According to The Indian Express, pictures of Arijit Singh went viral wherein he can be seen blended among "commoners". No security, no fancy outfits, no luxury cars, no selfies with fans, and no star treatment. He stands outside the closed school gate waiting for his son in Murshidabad, West Bengal.
With the kind of money that Arijit Singh probably earns, he could have admitted his son to a lavish private school in Mumbai or in Kolkata. But no. He is bringing up his son in the same way that probably he was brought up. Reports also claimed that Singh is often seen going to the market by himself to shop for vegetables with a bag in his hand. Other times, he is also seen sitting outside a roadside chai-tapri.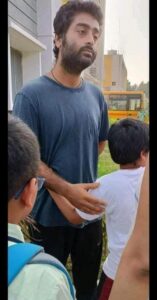 This touched the hearts of several people online who couldn't help but laud him for his simplistic lifestyle. Have a look:
Arijit Singh waiting for her children infant of school gate like normal people pic.twitter.com/NAH7JlhkWb

— Arif Rahaman Mondal (@ArifRahamanMon4) April 15, 2022
Not as a celebrity, but like five other parents, He has come to drop his son off at a government school.
Murshidabad,West Bengal ✅@arijitsingh
Huge start, infact one of the biggest celebrity of india with Zero arrogance ✅
What a legend🙏#ArijitSingh #AtifAslam #RanbirKapoor pic.twitter.com/x8JHn3Uljh

— Bapi Biswas (@meinrebelhoon) April 13, 2022
Arijit Singh qued with other parents to reach his son to school..fame didnot prevent him to lead his old middle class ordinary life.. pic.twitter.com/QTEHyfkFIN

— Sujata (@Sushant35919224) April 14, 2022
An extraordinary singer with an ordinary way of life.. ..@arijitsingh commands respect.
Arijit "A common man" at his son's school ❤️

অসাধারণ হয়েও অতি সাধারন ভাবে থাকা যায়… কিন্তু সেটা পারে কজন !!!
ছেলের স্কুলে, আর পাঁচটা অভিভাবকের মতোই সাদামাটাভাবে গায়ক অরিজিৎ সিং ❤️ pic.twitter.com/L8nG5rMfV0

— Dr. Anupam Hazra 🇮🇳 (@tweetanupam) April 15, 2022
He went to drop his kids in the school,like normal parents,such a humble person,saw another pic in Facebook…..#ArijitSingh

— Sree 🇮🇳 (@worldfarfrom) April 13, 2022
I love this man 🥺💕
Koi itna simple grounded kaise 🤦#ArijitSingh pic.twitter.com/TLm8CNxo0H

— Bithi (@Bithi_JD) April 14, 2022
What a man!
Pictures source: Twitter.