I watched Arijit Singh perform live way back in 2013. The 'Aashiqui 2' album had just been released and then he used to sing other popular Bollywood songs along with his own. But today, 9 years later, he is probably the most popular singer the music industry in India has. So, it is only natural that his concert ticket prices will burn a hole in your pocket.
View this post on Instagram
BUT 16 LAKHS?!
You read that right. Arijit Singh is all set for his India tour and his Pune concert tickets start from Rs 999 and go all the way up to Rs 16,00,000! I'm not even making this up. A person on Twitter shared a screenshot.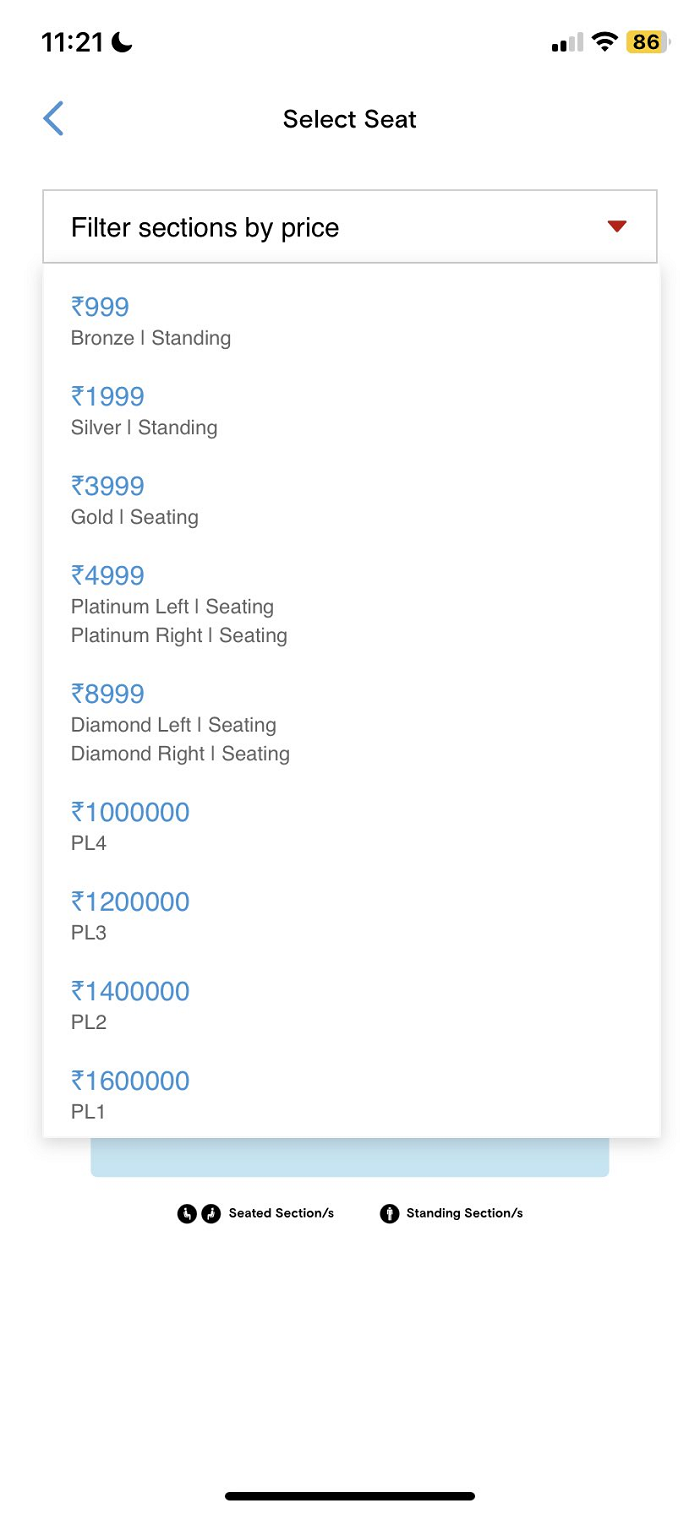 Now, you may think that there was a glitch in the website. But no. I checked again.
So the location where he will be performing is divided into several zones. The least expensive is 'Bronze' which is the standing area and the tickets are for Rs 999. This is the 'early bird' ticket price, BTW.
Like this, there's 'Silver' (standing area, Rs 1999), 'Gold' (seating area, first come first serve, Rs 4999), 'Platinum Left' and 'Platinum Right' (both seating, first come first serve, Rs 6999), 'Diamond Left' and 'Diamond Right' (both seating, first come first serve, Rs 8999).
And then comes sections called PL or 'Premium Lounge' which again has 4 sections – PL 1 – PL 4. These tickets start from Rs 10 lakhs and include "unlimited food" and "premium liquor". The price for PL 1 tickets is Rs 16,00,000 each.

If you still don't believe me, you can check out the prices by clicking here.
Arijit Singh concert tickets might be hella pricey, but people's reactions on Twitter were absolutely priceless! Here's what many of them said:
i love arijit singh but i won't be spending so much😭 pic.twitter.com/kYdfNq2po8

— sh // sarah's day ❤️ (@midnightmmry) November 24, 2022
16 lakh wtf 🤣🤣🤣🤣🤣

— Eashan Anwekar۟ (@EashanAnwekar) November 24, 2022
Thats exactly for what i need a sugar mommy

— Abhi Sharma (@AbhiSha06140736) November 24, 2022
16 lakh me Arijit k padosh me chota sa ghar leke usko roj sunn skte hai.

— Humma_says🧸 (@HMojanidar) November 25, 2022
Yahan spotify premium ke paise nahi hai arijit ki concert k liye kaha se lau

— isHaHaHa (@hajarkagalwa) November 24, 2022
ig after a point some singers should be declared NATIONAL SINGER and their shows should be like jagraata (open for everyone) so that we all can cry together

— Vidhi Chawda (@vidhichawdaaaaa) November 24, 2022
me @ arjit pic.twitter.com/rbgjCCnCXb

— Astitva (@AstitvaSondhra) November 24, 2022
Yeh Mera CTC kyu dikh Raha hai ya bhai? 😂😂😂

— Shub-hmmmm (@Shubham_B7) November 24, 2022
Roone ke liye 16L toh koi na spend kare

— butterchicken (@butterrchicken_) November 24, 2022
16L mai apna khud ka ek arijit peda krdunga

— Shivam (@itsshivamsaxena) November 24, 2022
10 lakh mai toh arijit ko khud mere ghar aake gana chhaiye😭

— Darshan⚡ (@mostlyhigh) November 24, 2022
Sorry Arijit, but we're poor. 🙁