Having long lustrous hair is almost every Indian woman's dream. But we also know that that dream brings way too many problems with.
We spend half our life just switching shampoo and hair oil brands, untangling locks, covering our hair with caps and scarves and sobbing about the amount of hair fall.
So perhaps now we should embrace the perfection that is short hair. I mean, look at all the Bollywood celebs, they rock it. So why can't we? And having short hair has so many benefits that you'd forget being sad about not having long hair.
Here are 13 perks of having short hair.
1. You'd be saying bye to weather troubles, once and for all
Hair sweat? what's that again?
2. You'd be saving a lot on shampoo and hair oil
And save more money overall. Heh.
3. Short hair is super easy to manage while getting ready
Going out at a moments notice? Oh yeah, I'm in!
4. You would never look plain. Nada
It's impossible not to make a statement with a short hair cut, even if you're totally not trying!
5. Short hair goes well with all kinds of outfits
Rock that LBD or wear a lehenga, you'd always look fabulous. And even better; you'll stand out.
6. Short hair makes you look way younger
Short haircut makes you shade few years instantly!
7. There are so many styles for short hair
Leave it messy or style it as you like, you'll rock it anyway! And you thought only long hair could be experimented on.
8. The back of your neck is now free to play with the breeze
Or your face. Or your ears. Not to mention how you can flaunt a neck tattoo with panache. *feels the feeling of feeling air everywhere*
9. Short hair looks good on all kinds of hair
Be it straight, curly or wavy, a short haircut just can't go wrong!
10. You can color it without worrying much
Embrace your inner punk chic!
11. You won't need to worry about how your hair looks after a ride
Bikes or rickshaw, you don't mind getting on that vehicle anymore!
12. You don't need to think twice before letting you inner wildness run free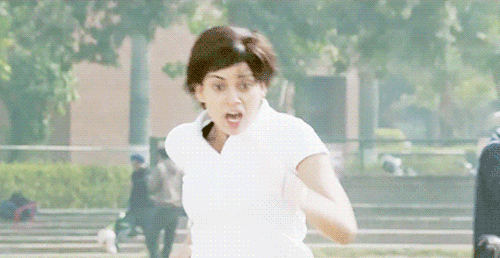 Adventure sports, here I come!
13. And finally, there's more room for you to flaunt your beautiful smile
Short hair gives you room to work on that beautiful smile of yours!
With a short hair style, every girl be like "Banno tera swagger laage sexy" 😀