When was the last time you saw an interactive smartboard in a government school? Chances are, probably never. Unless you have visited or have been a student in Panchayat Union Primary School in Villupuram, Tamil Nadu.
You won't see the scratched benches here and nor do the children need to sit on the floor and memorise everything through rote learning.
The government school is progressive in every sense of the way – technologically and ideologically. And it's all because of the herculean efforts of the teacher, Annapurna Mohan who goes out of her way to make sure the poor children get the best of education in the country.
She has sold her jewellery so that her students get the best classroom experience. Because of the sale, she was able to buy her pupils a digital smartboard system, new floor, new furniture and books too.
"I decided to do it by myself because I did not want to burden anyone. Doing it myself also helped to get it done more efficiently, as I did not have to rely on anyone else."
And it's not just the classroom that is new for a government school. Teacher Annapurna uses the the phonetic way to teach her students English. That way her students speak English better than most of the schools in Tamil Nadu.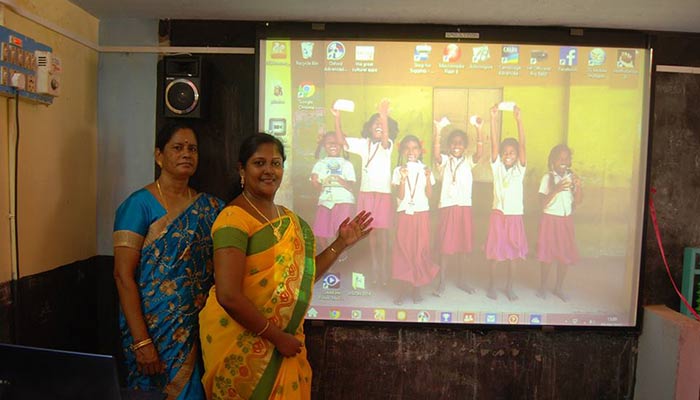 She makes sure that everyone speaks English at all times to her and with each other. Because Tamil is already spoken back at home, the students turn out to be bilingual from a very early age.
She also experiments with new ways to make learning interesting for her students. Her latest technique is to turn every lesson into a skit in which all her pupils participate. She then uploads the recording to her Facebook where everyone can see her students perform.
Some teachers around India became very happy after seeing these videos and sent the students small rewards – like a money order of Rs. 10. Teacher Annapurna makes sure that the money goes to the students and acts as a motivation to perform even better.
Because of her altruistic actions, more and more people are coming forward to make the facilities at her school better.
Annapurna's efforts are a lesson to every teacher. If the teachers will it, the whole system can be changed, even if the school is a poor government-run school. She may have given away her jewellery for the cause, but because of the sacrifice, a whole generation of students at her school are better equipped to be a better part of the society.
She's an inspiration and a model teacher.
Thank you, Annapurna Mohan.
Source – The News Minute