Yes, smartphones have a zillion features to entertain us, but games have their own special place. Sometimes, when you sit with your phone and there is nothing going on the web, you need games to pass your time.
Also, there is a huge group of users who are passionate gamers. They thrive to create high scores or to break them. So, for all of you, we have compiled a list of 20 fun android games.
1. Plants Vs Zombies
You have to soil your plants to protect your home from a mob of invading zombies. Plants like peashooters, wall-nuts, cherry bombs and more will kill the zombies and drive them away.
2. Cut The Rope
Cut the rope to feed candy to your hungry pet, Om Nom!
3. Temple Run
In this addictive and mega-hit game, you have to run for your life to escape the Evil Demon Monkeys nipping at your heels.
4. Angry Birds
You have to use the unique powers of the Angry Birds to destroy the greedy pigs' defenses, who stole their eggs! The game comes in a lot of different versions like Start Wars, Transformers, Rio, Space etc.
5. Fruit Ninja
Slash across the screen to cut all the fruits in half. but, avoid the bombs!
6. 2048
Join the numbers and get to the 2048 tile!
7. Crossy Road
Make your character cross the road without getting run over. Earn new points and unlock a brand new character every time.
8. Dumb Ways to Die
Prevent all your favourite 'Dumb Ways To Die' characters from dying.
9. Pocket Tanks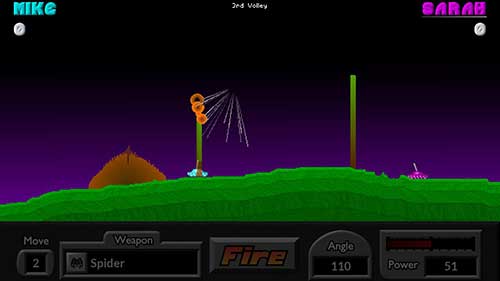 Destroy the opposite tank by selecting and firing your awesome weapons.
10. Plague Inc.
Be an ultimate villain by spreading a virus that will finish the human race.
11. Dots
Connect the dots of similar colour to earn points.
12. Vector
You are a free runner who won't be held down by the system. So, run, vault, slide and climb using extraordinary techniques while being chased by "Big Brother" who's sole purpose is to capture you and bring you back.
13. Ingress
Ingress transforms the real world into the landscape for a global game of mystery, intrigue, and competition.
14. Flappy Bird
Keep tapping the screen and don't let the bird touch the ground.
15. Smash Hit
Take a journey to otherworldly dimension, and smash everything that comes in your path.
16. Zen Pinball
A 3D and the most detailed version of Pinball you'll ever see. Some quirks include characters from Marvel Comics, Star Wars, The Walking Dead, South Park and more.
17. Abduction
Your friends have been abducted by aliens, and it's up to you to save them!
18. Brickies
Break the bricks and bounce your way to victory.
19. Subway Surfers
Collect all the coins and escape the grumpy inspector and his dog.
20. Clash of Clans
Raise your own army and lead your clan to victory.
Hope you'll enjoy these.
Until next time… 🙂