2017 has witnessed the loss of many yesteryears' celebrities and every loss has made us sadder. The demise of stars like Om Puri, Vinod Khanna, Reema Lagoo, etc. have left a void in hearts as well as the industry, whether you're a fan of their work or not. But if there's one thing we all gravely fear is the loss of our 'Bollywood Shehenshah' Amitabh Bachchan.
Fondly called Big B, he was admitted for a brief period in Lilavati Hospital in Mumbai for a routine check-up. According to

DNA

, he was complaining about neck and spine pain for some time.
While exiting the hospital premises in the car with his son, Abhishek Bachchan, the paparazzi attacked him with flashes of their camera and reporters shouting their questions.
It seemed like the angry-young-man anticipated this because he had his face covered with his monkey cap. Neither he nor Abhishek waited for any photos, questions or anything else.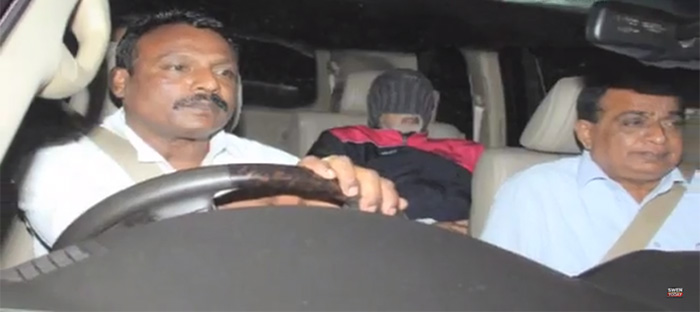 Later on, 69-year-old Big B posted a poem on his

blog 'Bachchan Bol'

about the hospital visit. And well, I'll let his words speak to you now.
जी हाँ जनाब मैं अस्पताल जाता हूँ
बचपन से ही इस प्रतिकिया को जीवित रखता हूँ ,
वहीं तो हुई थी मेरी प्रथम पयदाइशि चीत कार
वहीं तो हुआ था अविरल जीवन का मेरा स्वीकार
इस पवित्र स्थल का अभिनंदन करता हूँ मैं
जहाँ इस्वर बनाई प्रतिमा की जाँच होती है तय
धन्य है वे ,
धन्य हैं वे
जिन्हें आत्मा को जीवित रखने का सौभाग्य मिला
भाग्य शाली हैं वे जिन्हें , उन्हें सौभाग्य देने का सौभाग्य ना मिला
बनी रहे ये प्रतिक्रिया अनंत जन जात को
ना देखें ये कभी अस्वस्थता के चंडाल को
पहुँच गया आज रात्रि को Lilavati के प्रांगण में
देव समान दिव्यों के दर्शन करने के लिए मैं
विस्तार से देवी देवों से परिचय हुआ
उनकी वचन वाणी से आश्रय मिला
निकला जब चौ पहियों के वाहन में बाहर ,
'रास्ता रोको' का ऐलान किया पत्र मंडली ने जर्जर
चका चौंद कर देने वाले हथियार बरसाते हैं ये
मानो सीमा पार कर देने का दंड देना चाहते हैं वे
समझ आता है मुझे इनका व्यवहार ;
समझ आता है मुझे, इनका व्याहार
प्रत्येक छवि वार है ये उनका व्यवसाय आधार ,
बाधा ना डालूँगा उनकी नित्य क्रिया पर कभी
प्रार्थना है बस इतनी उनसे मगर , सभी
नेत्र हीन कर डालोगे तुम हमारी दिशा दृष्टि को
यदि यूँ अकिंचन चलाते रहोगे अपने अवज़ार को
हमारी रक्षा का है बस भैया, एक ही उपाय ,
इस बुनी हुई प्रमस्तिष्‍क साया रूपी कवच के सिवाय
~ amitabh bachchan
The poem speaks volumes about how he has been visiting the hospitals ever since he was born. He expresses his gratitude to the God-sent doctors who have the privilege of saying people's souls. He goes on to describe how he spoke to the doctors at length and left the hospital with the hope of getting better, as promised by the doctors. However, the media screamed 'Raasta roko' on his car's arrival and flooded them with blinding flashlights.
Kind as always, Big B empathises with them because their livelihood depends on this kind of work. He did not wish to be a hindrance to that and he extended his prayers to them. But he also expresses how their ammo can blind their sight if they use it so much, and hence, the only thing to protect him was his knitted cap, pulled over his face.
Brilliant, isn't it? But then again, nothing less can be expected from the famed poet Harivanshrai Bachchan's son, isn't it?