Severe unrest and panic has taken over Jammu and Kashmir as news of possible terrorist attacks is on the air. Over the weekend, Amarnath pilgrims and tourists were asked to curtail their stay in J&K as the Pakistan Army were allegedly "planning to upscale violence" and tried to "target the yatra recently", reported The Hindu.
Due to this uncertain situation, an indefinite curfew was imposed in Srinagar. Leaders including Omar Abdullah, Mehbooba Mufti and Sajad Lone were put under house arrest. Internet, phone, and cable services have been shut down.
According to Firstpost, the current government is most likely to revoke both Article 35A and Article 370 which gives J&K an autonomous identity. According to these, special rights and privileges are bestowed upon the citizens of J&K and prohibits people from outside the state from buying/purchasing any immovable property in the state. Article 35A prohibits non-permanent residents from permanently settling in the state, buying immovable property, acquiring land, applying for government jobs, any kind of scholarships and aids and other public welfare projects.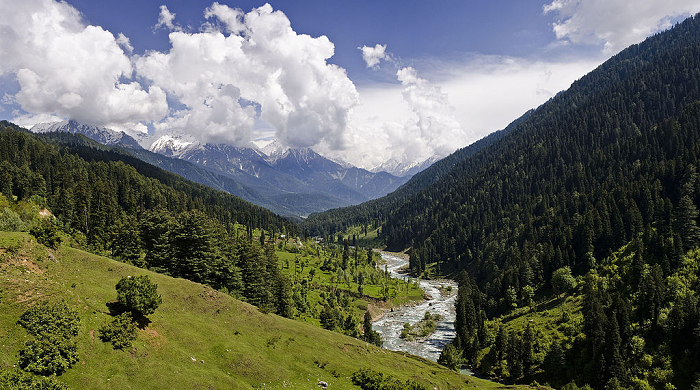 In the Rajya Sabha session that took place this morning, Home Minister Amit Shah proposed the removal Article 370 which gives a special status to J&K. He said that all regulations falling under Article 370 will not be applicable after Presidential nod.
Amidst such chaos, actor Anupam Kher's tweet addressing the issue has stirred controversy online.
Kashmir Solution has begun.🇮🇳

— Anupam Kher (@AnupamPKher) August 4, 2019
According to a report by NDTV, Kher had previously claimed that all the issues in the Kashmir Valley will be resolved if Article 370 is abolished. This is how netizens reacted:
https://twitter.com/Nehr_who/status/1158108778941652992?s=20
It took one man from Gujarat to integrate this country in 1947. It took two more men from Gujarat to complete that integration in 2019. J&K now truly integrated with the rest of the country. #SardarPatel #Article370 #Article35 #IndiaFirst #JaiHind

— GAURAV C SAWANT (@gauravcsawant) August 5, 2019
If a solution requires the murder of 1000s of civilians including women and children just because they want freedom to breathe and live as they want to, then it's not a solution it's mass murder/oppression/genocide. Anyone who supports oppression is an oppressor & you are shit!

— اہل ستم (@isthisstillme) August 5, 2019
Under the proposed law that Amit Shah introduced in the Rajya Sabha, Jammu and Kashmir will now be a Union Territory with legislature and not a state.
It will have catastrophic consequences for the subcontinent. GOIs intentions are clear. They want the territory of J&K by terrorising it's people. India has failed Kashmir in keeping its promises.

— Mehbooba Mufti (@MehboobaMufti) August 5, 2019
How come are you accessing internet? Hotspot from Pakistan ?

— Always Abhishek (@Dev_Aryan5373) August 5, 2019
Kashmir is India itself stop this bullshit.

— El Professor (@sacredutd) August 5, 2019
Finally BJP has fulfilled its long time promise!

I support this decision. Ideally, it should bring peace, economic progress and make Kashmiri lives better but it's impossible to predict the impact of such a historic decision.

Let's hope for the best.#Article370

— Dhruv Rathee 🇮🇳 (@dhruv_rathee) August 5, 2019
Now there will be only one flag from kashmir to kanyakumari 🇮🇳
One national anthem from kashmir to kanyakumari
History has been created.#Article370 #Article370revoked pic.twitter.com/Pk9ps04oDK

— Ranjeet Singh Patel(लोधी) (@ZamidaarRanjeet) August 5, 2019
The issue which was impossible till date has become possible today. Article 370 was scraped through Constitution.
Now one country, one flag, one constitution.
Jai hind 🇮🇳#KashmirHamaraHai#JammuAndKashmir #370gaya #Article370 pic.twitter.com/KcjXE6UjRP

— Shailaja Shashikant Jogal (@jogalshailaja) August 5, 2019
According to India Today, the government has also proposed to make Ladakh and J&K  separate Union Territories. They have also proposed separate legislatures for the two.
We hope this unrest soon comes to an end. Stay safe, J&K.