They were good at what they're doing before joining politics. They may have had noble intentions but things didn't really pan out the way it was supposed to. However, considering a few deeds of our celebrity politicians, it doesn't seem as though they had any impulsion of serving the nation. As for the rest, the dirty alleys of Indian politics seemed too rough for them.
Let's take a look at some of our well known celebrities, regional or otherwise, whose dint at politics proved to be quite a waste.
1. Tapas Paul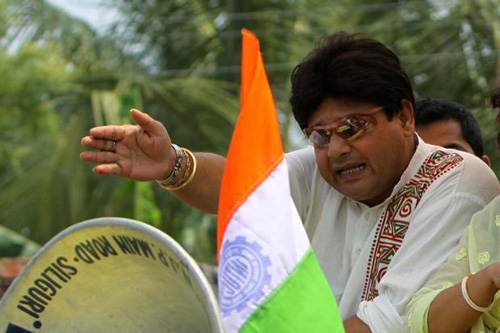 The veteran actor of the Bengal film industry won the 2014 Indian General Elections on his Trinamool Congress Ticket and started serving as Member of the Parliament in Kirshnanagar, West Bengal. Now, everybody knows of the long standing strife between the two major political parties in the state – Trinamool and CPI-M. Mamata Banerjee's penchant and patronage for filmstars seemed to pay off when Tapas Paul campaigned vehemently against the rival Communist party.
However, he just over stepped a line when he threatened the women workers of CPIM with rape and his words sounded pretty much like this – "I will let loose my boys, they will commit rape. Yes, they will commit rape." With rape being one of the most sensitive issues the country's been dealing with, such comments from an MP didn't really show the sensitive side of the government towards women's rights, or safety for that matter, in West Bengal.
2. Govinda
Govinda was elected a Member of Parliament for North Mumbai in 2004 which prompted him to take a five-year-hiatus from films. What Raja Babu didn't anticipate was that it's a hard task addressing the needs of the nation and being an MP comes with actual responsibilities.
So, when Govinda realized, in his own words, that he missed dealing with Karishma Kapoor instead of Ram Naik and that he had obsessed to a 108 kg by pondering over his Coolie No. 1 days not being accessible to the common people, even at the time of the devastating floods, he decided to call it quits and come back to doing what he does best – slapstick comedy.
3. Amitabh Bachchan
In many parts of the country, they actually worship Amitabh Bachchan adhereing to proper ritualistic discipline. Therefore, it wasn't a surprise that the nation was expecting a hero in the Indian political scene when Big B stepped into the big bad world of Indian politics in 1984. Bachchan, later said that his days at the Lok Sabha taught him that it was never possible for anyone to bring about a change from within the system.
Although, as Big B says himself that he had tried to do whatever he could for the poverty stricken rural parts of the country, the relentless politicking was too much for him too handle and the original angry young man of India fell short of passion, eventually.
4. Dharmendra
If Jai failed at politics, Veeru was no better. However, the only redeeming factor about him as a politician was that he confessed he was a complete misfit for the role. He was seen regretful of his failure at salvaging his reputation in politics but had also expressed his disappointment in the fact that although, he apparently had had a lot of contributions in the development of Bikaner but couldn't claim credit for it.
Dharmendra was simply left embittered when all his work couldn't earn him the love of the people of Bikaner, his constituency. Interestingly, he stayed put in Mumbai from where he did all the good work for Bikaner, as he puts.
5. Chiranjeevi
One of the biggest names in the world of Telegu cinema where stars are put on the pedestals of demi Gods, Chiranjeevi was hoped to pull up an NTR when he stepped into politics. However, being dabbed in politics, Chiranjeevi, according to a close aide of him, felt he wasn't cut out for the 'Congress-mark' politics and isolated within the party.
Apparently, Chiru's inefficiency at politics cost him the larger than life action hero image that his fans would worship.
6. Satabdi Roy
Another veteran actress of Bengal, Satabdi Roy has been a member of the Parliament since 2009. As of yet, the Trinamool Congress MP hasn't really proved her worth as a leader but surely has left her mark when it came to the crassest election campaigns ever. Satabdi Roy asks voters to cast their vote in her favor in the upcoming elections and the incentive for doing so, as put forward by her are as follows:
"When you see me on television or road shows, you have to buy tickets. However, for the last five years, you have been watching me, talking to me for free. Isn't better if you could watch me for free? So, if you want to keep watching me for free, vote for me so that I could show you for free" – That's the exact translation from the actress/MP's speech in Bangla.
7. Hema Malini
Bollywood's dream girl was not quite the dream MP for BJP. She is believed by many to be of those elite MPs who have actually zero contribution to the society. Very recently, Hema Malini was caught up in a controversy regarding her car running over little girl who died a slow death at the hospital while the MP took to the social network to blame the girl's father for the death.
Not that the accident can be directly linked to her inefficiency as a politician but the recent allegations against her regarding the land scam and fraudulence of the Oshiwara plot, Mumbai doesn't make her case any stronger.
The ones who chose to leave did us a favor – the ones who're still lingering are whom we should beware of.