One of the most bone-chilling characters that Hindi films have produced is that of Bob Biswas from Kahaani (2012) – a docile and harmless looking LIC agent from the outside but a contract killer from the inside.
Bob Biswas, played by one of Bengal's iconic actors Saswata Chatterjee indeed became a memorable one because it was not just a major shift from the quintessential all-black wearing, sutta smoking, bike riding killers. His 'bhodrolok' (gentleman) looking attire and of course the way he greeted people and said 'Nomoshkar' never gave away the fact that he was a blood-thirsty demon.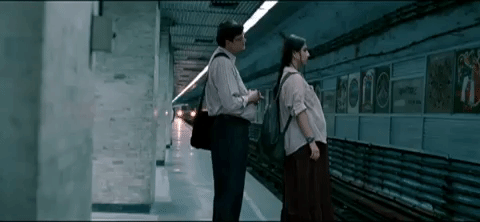 And now, Bob Biswas is all set to get its own spin-off and the film is being produced by none other than Shah Rukh Khan's Red Chillies Entertainment, reports News18.
Nomoshkar! 🙏🏻👓 Thrilled to announce our upcoming film, #BobBiswas in association with Bound Script Production; starring @juniorbachchan and directed by Diya Annapurna Ghosh. @gaurikhan @iamsrk @sujoy_g @_GauravVerma pic.twitter.com/CoQLlfE55X

— Red Chillies Entertainment (@RedChilliesEnt) November 25, 2019
However, it was a major let down when it was revealed that Abhishek Bachchan will allegedly be playing Bob's role. People took to Twitter to express their disappointment over the casting and are saying that if there is someone who can do justice to the role, it's only Saswata Chatterjee.
There's only one #BobBiswas, Saswata Chatterjee. Period. pic.twitter.com/yQd2I1CZsK

— Agnivo Niyogi (অগ্নিভ নিয়োগী) (@Aagan86) November 25, 2019
#BobBiswas is iconic only bcz Saswata Chatterjee played that role. Bollywood seldom produces a good thing & then they ruin it. Fuck you Red Chillis.!!!!!

— tam🌈 (@OhDearKarma) November 25, 2019
I honestly feel bad for #SaswataChatterjee upon hearing the news of #BobBiswas getting its own spin off! A character, with such limited screen time had such a lasting impact with audiences as the antagonist. I guess it's the sad reality of pitching a scalable film! pic.twitter.com/qMo21PL8RX

— ANMOL JAMWAL (@jammypants4) November 25, 2019
So the original actor who played the character so flawlessly is still alive? But then again it is Bollywood… R.I.P Saswata Chatterjee #RIPBobBiswas 😶 #BobBiswas

— Prsh Tmng (@PrshTmng) November 25, 2019
Ummm…. if this #BobBiswas is the iconic character from Kahaani then why Abhishek Bachchan? Nothing against AB Jr. But the physical characteristics don't match with Shaswata Chatterjee's character. 🤔

— Arunima (@TheFirstRays_A) November 25, 2019
Saswata Chatterjee deserves to be on his own #BobBiswas movie 🙁 pic.twitter.com/M17QeZ4Wgi

— harsh 🥊 (@SmilingLadka) November 25, 2019
@greatbong Abhishek Bachchan to portray #BobBiswas in upcoming movie.
I think the character worked due to Saswata Chatterjee's brilliant acting. Don't think AB jr. can do even 10% justice to the cult villain.
Your thoughts? pic.twitter.com/tOCcHLuguk

— dorian (@stoicola) November 25, 2019
I have a question

WHY NOT SASWATA CHATTERJEE ?????? 😡😡😡😠👿👿 #BobBiswas

— Serial Commenter (@CommenterSerial) November 25, 2019
This is my #BobBiswas forever pic.twitter.com/rRpITCrc4I

— [email protected] (@Bolly_drama) November 25, 2019
Star Kids and the Amount of unworthy Opportunities they get..🤷‍♂️🤷‍♂️🤷‍♂️ .. time to give up on cinema.. #BobBiswas #ShahRukhKhan #AbhishekBachchan pic.twitter.com/cxnzdOwGlQ

— boozer (@boozer49103897) November 25, 2019
Abhishek Bachchan right now:- pic.twitter.com/7kkGpcExk9

— Shubham (@iconic_shubham) November 25, 2019
Saswata chatterjee is such a great actor
But no they had to take abhisek #BobBiswas

— moh♥na (@extraaacheese) November 25, 2019
How do you make a movie on #BobBiswas without Saswata Chatterjee? The character was prefectly brought to life by the ace actor, so Bollywood decides to exclude him! Another example of its ethnically appropriated casting, just like Thalaivi. 🤮 https://t.co/wh8o45IWfs

— Ahona Sengupta (@ahona_sengupta) November 25, 2019
Whether Abhishek Bachchan will be able to stand up to everyone's expectation is doubtful. Because first, junior Bachchan's physical characteristics come nowhere near to how Bob is supposed to look like. And second, when we already have the OG Bob Biswas, Saswata Chatterjee, why ruin it by giving the role to someone else?
What are your thoughts about the issue? Let us know!