It's time to link your Aadhaar cards. But also, 'tis the season for weddings!
The one time you can splurge on creative ideas to show off and get away with it is here. But then there are people who like for things to have a meaning to it, and do not indulge in mindless expenses.
One such person is Virendra Tiwari, an agriculturist and a native of Vilayatkalan village in Katni district. For his daughter's wedding, he had the invites designed in the Aadhaar card layout, and the whole town is talking about it.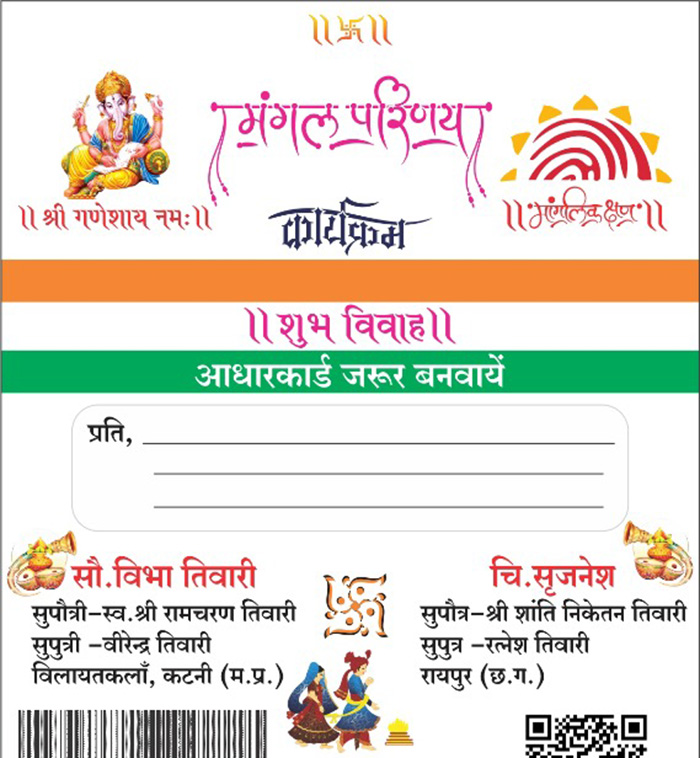 The invite urges people to apply for Aadhaar card and also spreads awareness for the Dowry Free India campaign.
In a statement to News18, Tiwari said,
"Whatever I do in life, I try tagging a message to it for the welfare of society. Therefore, we planned a unique theme for the invites."
He also said that the Aadhaar invites helped him save money as well as paper. He decided on this design after initially contemplating to go for a calendar design.
Tiwari runs a marriage bureau and always urges people to spread awareness about social campaigns during weddings.
This isn't the first time someone thought of an Aadhaar card-themed wedding invite. Earlier in 2016, a couple designed their wedding invite in a similar way too, minus the social messages.
Let's just take a moment to appreciate this creative idea while we enjoy the wedding season!
But wait, have you linked your Aadhaar yet?