Remember when we told you about the 500 crore wedding that was going to happen! Well, it has happened and the businessman-turned-Politician Gali Janardhan Reddy didn't spare a nickel for his daughter Brahmani's wedding to Rajeev Reddy.
The wedding that took place on November 16 was a star-studded affair (literally) held at the Palace Grounds, Bengaluru, which was decorated as the famous Hampi city. While most of the Indians are still queuing up in front of banks and ATM's, the mine-baron had Brazilian dancers to perform at the 5-day long extravaganza and models to serve Pan Beeda.
However, the pictures from the ceremony are here and with over 50,000 guests, the occasion was even grander than we expected. You'll have to look at it, to believe the bling!
1. Tying the knot
2. Design delight!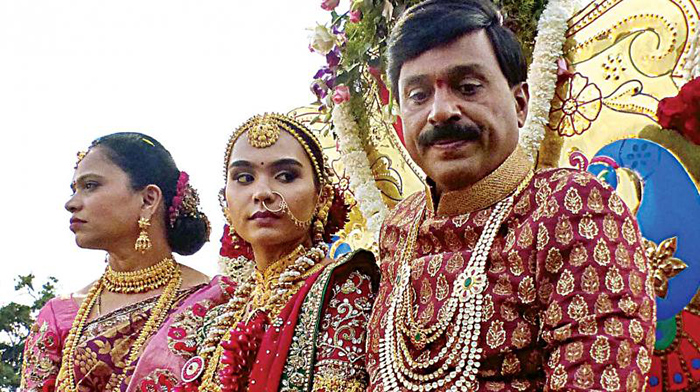 3. Beacuse, 'bade parde pe behtar dikhta hai!'
4. Holy mother of god! *bling bling*
5. Grand garlands are nuptials necessities!
6. Stage the show!
7. Offering so much along with prayers!
8. Magnificent mammal (figurine) was there to greet!
9. The Hampi, re-created!
10. Mandap magic!
11. The Reddy's 
Celebrities, #BJP leaders attend #JanardhanReddy 's daughter's #weddings eve functionhttps://t.co/drwwdiZx6b#ReddyWedding #reddy pic.twitter.com/bLWUR6J7E6

— News Karnataka (@Newskarnataka) November 16, 2016
12. "You're in for a treat!"
13. What would I not give to have that on my big day!
14. The newly weds
Now, I dont know about you but I'll take some time (and lots of tears) to digest these!
H/T: Deccan Chronicle