Oh Earth you, such a beauty you're. Your sumptuousness is utterly elusive. Your mesmerizing ways to keep us amused in whatever ways you put up your show is laudable; even for the wrecking destruction that you perform, the aftermath is quite dazzling.
Who doesn't like the serenity of the earth? Who doesn't get awestruck looking at the vastness of sheer Godliness that it disseminates? And who doesn't believe that if there's magic anywhere in world, it's right here. Here are some natural phenomena that occur on earth, which will leave you stunned;
1. Glowing Ocean Neon, Indian Ocean
For years, those who sailed in the Indian Ocean were witnessing a magical and one of a kind sight. All hail the glowing stretches of water. The biological light is the product of marine microbes called phytoplankton.
2. The Spotted Lake, Canada
This lake contains saline endorheic alkali lake on the eastern side of Similkameen Valley. As the water evaporates from this lake, it leaves behind these eerie holes. Each circle is of different color, due to the variety of minerals found in it.
3. Fields of Web, Australia
A phenomena so rare, that only occurs only when spiders flee from floodwater or any other catastrophe of similar kind. What they do is leave fields of web. They are then capable of making a big blanket of web on vast fields, even threatening to the habitat nearby.
4. Zhangye Danxia Landform Geological Park, China
What looks like a painting or a magnificent piece of art, is an actual place in China. The colorful and majestic view is the result of years and years of sediments of mineral deposits and red sandstone. The beauty present is also a collaborative effect of rain and wind that formed valleys, waterfalls, towers, and ravines.
5. Migration of Monarch Butterfly, United States
Everyone loves butterflies, but imagine a million hovering over your head. These butterflies cannot stand the cold winters of most of the parts of United States and therefore they migrate every autumn to either south or west. They go to Mexico and Southern California, where it remains warm all year long.
6. Frozen Methane Bubbles, Alaska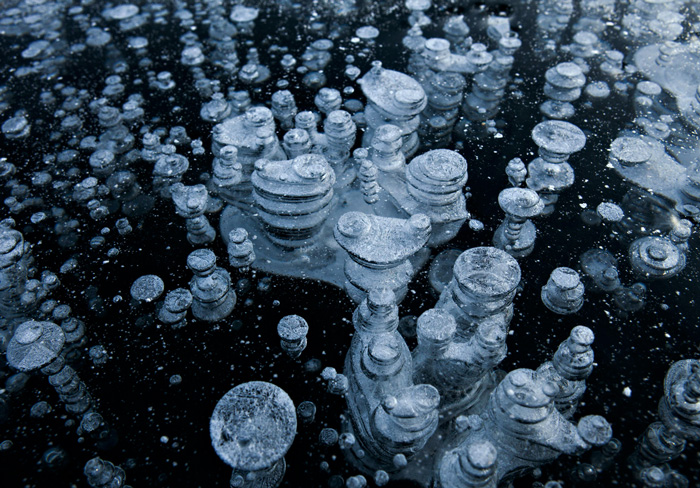 These beautiful methane bubbles are alluring and dangerous at the same time. Staying near to them, when popped can cause some serious injuries. These frozen methane bubbles are a beautiful repercussion of dead organic matters, that falls to the bottom, to the delight of bacteria waiting below.
7. This Storm, Venezuela
This blistering sight occurs in Venezuela. When warm and cold fronts meet where the river empties into Lake Maracaibo, it forms just the right conditions for this phenomenon. Nearby marshes emit methane gas, improving the electrical conductivity of the clouds, which also helps cause these extended lightning strikes which can last 10 hours.
8. Hair Ice, Wales
Wonder why everything other thing is happening because of bacteria? Well, here's one more for you. This form of ice is called Haareis or hair ice. This basically happens because of the bacteria pseudomonas syringae. It results in the increased freezing temperature of the water inside the plants, and then when it escapes, it results in this.
9. Crooked Forest, Poland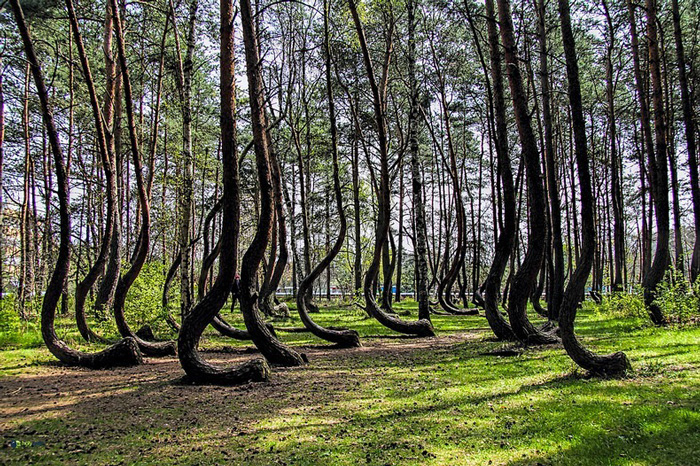 As some say, it is because of the extreme queer gravitational pull, however, there are numerous other theories too, totally defying the reason. This forest consist of 400 pine trees, which were planted in the year 1930.
10. Salar de Uyuni, Bolivia
This beauty, during the rainy seasons, turns itself into a natural mirror. People call it the mirror of the heaven.
11. Sailing Stones, Death Valley
Racetrack Playa embraces these sailing stones, the ones that have kept the world intimidated by its mere occurrence. There are people who tried figuring out the reason behind this, but failed miserably. Of late, a scientist claims to have the answer, not sure about the credibility though. Some stones are as heavy as 300 kg.
12. Floating in Dead Sea
If you don't know how to swim and still want to enjoy the joy of being in the water and this is the place for you. The salt concentration of the Dead Sea fluctuates around 31.5%. This is unusually high and results in a nominal density of 1.24 kg/l. Anyone can easily float in the Dead Sea because of natural buoyancy.
13. The Blood Rain, Kerela
July 25, 2001 it rained red in Kottayam. It blew everyone's mind to see red clouds hovering overhead and then the sporadic red rain. It has been a heated debate ever since. Researchers say that it was dust particles from Arabian Desert or exploding material from meteor or from the volcano eruption in Philippine.
14. Colorful Lakes, Indonesia
These beautiful lakes at the top of Mount Flores, are indubitably a pleasing and startling sight for everyone, which, therefore, remains most visited of all. These lakes are said to change colors. Also known as Kelimutu Lakes, it remained red, blue and white until 2006, but changed  the red lake is black-brown, the blue lake becomes light green and the white lake is black.
15. Fallstreak Hole, New Zealand
A large elliptical gap in the sky that forms when the temperature of the clouds is below freezing point, but the water hasn't frozen because of Ice nucleation. These ice crystals create a domino effect making them heavier and leaving a hole in the cloud.
16. Turquoise Ice Laka Baikal
Bearing the crown of largest fresh water lake on the entire planet, Laka Baikal contains 20% of the earth's fresh water. It has over two thousand varieties of flora and fauna, of which almost 1,600 are endemic to the lake.
17. Aurora Borealis, Norway
The last, but certainly not the least, this natural phenomenon has won million hearts. Derived from the latin word "sunrise", aurora borealis is the natural light display in the sky. The reason is charged particles, mainly electrons and protons, entering the atmosphere.