Ed Sheeran has delivered some of the most mesmerising hits over the past few years. In fact, 9 out of the top 10 songs in March's UK top 40 are from Ed Sheeran's latest album '÷'. So it's safe to say, the guy has a massive fan following with thousands of fans more than happy to have Ed's babies.
We can't confirm if that's what happened here but this baby's picture looks eerily similar to Ed Sheeran. Take a look for yourself, the resemblance is striking.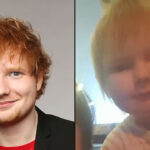 As expected, Twitter went crazy over how much this baby actually looks like the singer. Here are some of the best reactions:
1. She seems excited.
@1TD @cyannebliss omg everyone is tweeting about this boy 😭😭😂😂😂 and i'm here dying because he is so cuteeeeeee 😭GOSH I NEED HIM IN MY LIFE

— SAM💘☄ (@sambelieber95) March 17, 2017
2. WHAT?!
@sambelieber95 @cyannebliss she's a girl!

— Tom Davies 🌐 (@1TD) March 17, 2017
3. Brilliant idea!
@1TD @ceewestbrooks @edsheeran please get this baby to play you in your next video 😂😂😂

— Greighwolfe (@greighwolfe) March 17, 2017
4. Let's not jump to conclusions here.
@1TD He has got to be the father😂

— Ross McCulloch (@Rossmac212) March 17, 2017
5. I don't know why it's SOOO funny, but hey, to each his own.
@Jesshull97 @1TD @kemasterman SHUT UP HAHAHAH!!! THIS IS THE FUNNIEST THING IVE SEEN IN A LONG TIME😂😂

— niamh (@niamhspringett) March 18, 2017
6. Somebody's asking the important questions.
@1TD @Kita___K @KatjaEastwood Oh dear God, that's scary – surely the baby must be taller?

— Jan Gorski-Mescir (@Fydsy) March 17, 2017
7. Dads, hide your baby daughters!
@booberlou_ @1TD hahahahaha we got a baby Sheeran out there🤣🤣🤣

— ElinorStyles (@Elinor_Styles1d) March 17, 2017
8. Could it be? Hmmmmm
@1TD what if this boy is ed sheeran.

— Efe (@ffsAboubakar) March 18, 2017
Twitter is certainly tripping on the striking resemblance of this baby to the singing sensation. We wonder what Sheeran himself has to say about this.
Source: Twitter